Who Is Elizabeth Huberdeau?: John Cena's Ex-Wife Biography, Age And Net Worth
Celebrities●0 min read●
You are most likely not a John Cena or WWE fan if you haven't heard of Elizabeth Huberdeau. She and John Cena were married from 2009 to 2012. The duo offered the audience an engaging narrative of young love turned into a blissful marriage.
Her name used to appear in practically every article regarding Cena's personal life. Actually, being the first lady of wrestling is the only thing bringing Elizabeth into the public eye. After marrying the superstar, she was always in the limelight. So let's find out all the details about her.
Who Is Elizabeth Huberdeau?
John Cena's first wife is Elizabeth Huberdeau. People also know him as Liz Cena. Since they were in high school, Elizabeth and John have known one other. Elizabeth Huberdeau and John Cena married on July 11, 2009. However, the couple got divorced on May 1, 2012, after they had a disgusting fight.
Age
Elizabeth Huberdeau was born on September 28, 1979. So, on this year's September, she turned out to be 42 years old. Her astrological sign is Libra, and she is of American descent. She was born in the Massachusetts town of West Newbury.
Early Life And Education
Elizabeth Huberdeau attended Central Catholic High School in Lawrence and graduated with honors. According to our sources, Elizabeth went on to Springfield College in Massachusetts after graduating from Central Catholic High School. 
Although we know nothing about her upbringing or family, she inevitably attended public high school in her native state. Since she and Cena were school sweethearts, we assume that the duo met each other at one of the two universities she attended. 
It means the lovebirds might have had their initial encounter at the Central Catholic High School in Lawrence. Or, they could have also met in the Cushing Academy in Ashburnham.
Elizabeth picked Springfield College for her post-secondary education, intending to pursue a career in real estate. 
Career Graph
Her first and greatest ambition was to become a model. She also got a few modeling jobs before her marriage, but she didn't get much attention there. Her small stature wasn't enough to propel her modeling career.
Huberdeau now works as a broker in the real estate market. Her company encompasses the fields of building, purchasing, repairing, and even trading structures for both residential and commercial purposes. Magazines like the Heavy Profile and TMZ featured her as a famous real estate agent in America.
Net Worth
People are interested in her net worth because she is the ex-wife of one of the wealthiest wrestlers. However, we also acknowledge that she is pretty successful in her field. 
We have found out that she makes a lot of money as a real estate agent. On top of that, she also received a large sum of money following her divorce from John. But, Elizabeth had always worked as a real estate agent and relied on her earnings. 
According to our estimates, Elizabeth's net worth increased to $55 million due to their divorce settlement. The current net worth of Elizabeth Huberdeau is approx $10 billion. However, she believes she got most of her money as the divorce settlement amount from John Cena.
Huberdeau And Cena's Love Story-From Young Lovers To Married Couple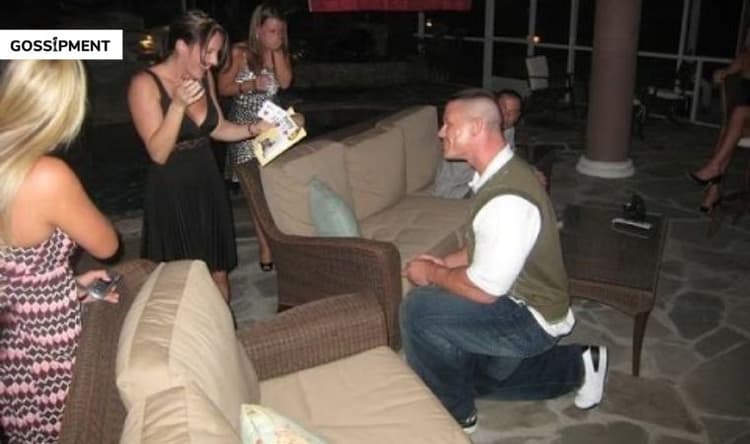 Indeed Cena and Elizabeth's narrative began when they were teenagers. But, no one knew about her until John announced his engagement. Actually, it wasn't even a formal announcement. Instead, he just casually mentioned it during the promotion of his film "12 Rounds."
When Cena announced that he would get married that year in an interview, the internet started exploding with facts about their relationship.
Barely five months after the interview, they exchanged vows in their secret wedding ceremony. It took place on July 11, 2009, in Boston, Massachusetts. Since then, the duo became inseparable as the paparazzi spotted them together everywhere.
Elizabeth even let go of her modeling ambitions to support John's acting and wrestling careers. They seemed to love each other's company, but they didn't have children. Elizabeth did not conceive because John said he wasn't ready to be a father then.
We don't know what happened to their love, but we do know that their marriage lasted barely three years, as John filed for divorce in May 2012. When asked about the grounds for the divorce, he stated that they were no longer getting along. He also said that the environment in the house was always tense and they wouldn't stop fighting.
Other versions regarding their divorce mention that the couple had a disagreement over house remodeling, and that was the final straw in their narrative. People close to Liz claimed that John failed to honor a contract with several contractors who worked on their homes and did not pay them. So, that incident really upset Elizabeth, and she refused to stay with him anymore.
Rumors also showed that Elizabeth thought Cena was having an affair. So, that may also be one of the reasons why the couple decided to end their marriage so soon.
The Post Celebrity Glow
Elizabeth was no longer in the public eye after her divorce. She doesn't even disclose anything about her personal or professional life on social media because she doesn't have a public profile on any of these sites. 
As far as we know, she has settled in Florida. But, she is concentrating on her job as a successful real estate broker and owner of her own firm. Her salary as a real estate agent is pretty substantial. So, that pretty much allows her to maintain her supremely luxurious lifestyle.
She seems to be doing well in her personal life as well. Photos of her and her lover, Eli Ayoub, have lately surfaced on the Internet, and she appears to be having a great time with him.
The post-celebrity lifestyle suits Huberdeau, but things are not going so well for the Wrestling superstar. Cena just ended his relationship with Nikki Bella. The duo reportedly started dating after 4 months of Cena's divorce. Many speculated that they might marry shortly because John proposed to her in one of his wrestling matches, but Cena's break-up post revealed that the couple was no longer together.
Closing Thoughts
After all of this, we see Elizabeth as a strong and independent lady who could endure adversity in her life. Don't you think that the fact that she basically started a new one after her divorce makes you like her even more? Just think about it. But, in the meantime, we will surely inform you if we get any more updates on her current life or John Cena's current relationship status. 
Read Also: