Today, the Gothic style has received significant distribution in popular culture.
It can be found in fashion shows, TV shows, movies, and music videos. The prominent misconception people have about gothic outfits is that they must be black. Indeed, this style is dominated by black, but sometimes, fans of a gloomy worldview choose dresses of other colors, including white or even pink. Let's discuss the basic style properties.
The Origin Of The Gothic Culture
It is difficult to narrow down the Gothic culture and outfits. It is because many branches and movements brought about the development. Everyone wants to know the answer: what is the start and fashion of Gothic fashion? Therefore, the root of this very movement remains conspicuous.
The Gothic mourning attire or the Gothic clothing is predominantly black but not completely black—the dress comprises some other shades like green, deep red, or purple.
Some proponents of the gothic style or fashion include Robert Smith and Peter Murphy. There are plenty of proto-goth style elements that seeped into the culture. The essentially gothic fashion icons existed well before the well-known creators that deserve recognition. However, we discuss a few of the prominent proponents of this style.
Theda Bara
Theda Bars can be considered as a pioneer of the gothic fashion. It is known as the America's first goth. She was one of the ladies whose style statement is governed by the darn makeup of the eye and revealing clothes.
Her name, Theda Bara, is another of pure goth. It includes Arab death. She is undoubtedly one of the most pronounced proponents of the goth fashion.
Morticia Addams
The Adams family comprises Morticia, Wednesday, Gomez, Uncle Fester, and Pursey. It was the first family which had quite a strong effect on the Gothic culture.
It is worth mentioning that Mortica inspired the Goth style by using pale skin, dark lipstick, and black dress. There is no doubt regarding the fact that Mortica is elegant and mesmerized by her presence in both the television series and the movies.
Vampira
She was one of the darkest stars typifying the gothic cultural essence. Vampira was the creation of Manila Nurmi, who was the creator inspired by Morticia.
No one had ever seen humans with such a sharp appearance like Vampira. She was one of her kind, friendly, sarcastic, and genuine. Her long dark dress, sharp eyebrows, and long straight black hair made her famous. The character and the style influenced different horror movies of the time.
The main elements of the Gothic image
To better understand the philosophy of style and gothic clothes, we have compiled a list of the critical elements of the image:
Colors:
Classic Gothic fashion is dominated by dark colors, including black, red, burgundy, silver, and dark shades of green and blue.
Inspiration: 
Creating a gothic look means looking to vintage outfits from centuries past or the technological universe of the future for inspiration, from lace and puffy skirts to leather buckles and corsets, pair silk and velvet with contemporary pieces for contrasting accents.
Shoes: 
Choose chunky unisex boots or platform or lace-up pumps with stylish embellishments that echo the rest of your wardrobe.
Accessories: 
Long gloves, belts, piercings, and lace umbrellas are all crucial details of the Gothic world. When buying jewelry, consider items made of light and dark precious alloys like roses, skulls, crosses, and bats.
No gothic look is complete without bold makeup that accentuates facial features. Consider using light foundation or powder, thick eyeliner, dark lipstick, and black polish.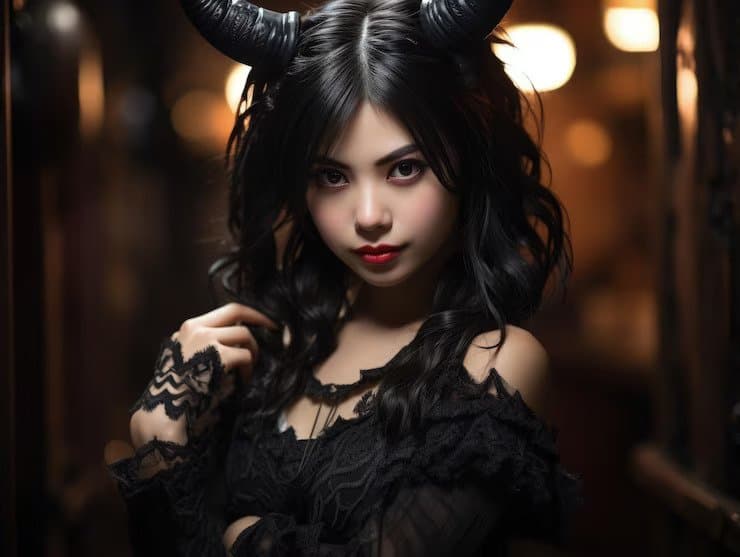 Types of Gothic styles
Since the Gothic style has existed for more than one century, and during this time, it has undergone many changes and influences. Whether you're a punk, goth, or romantic, dressing up to match your goth type will help you create an original style.
Consider the main goths' groups:
Victorian goths: reps of such subculture love the color black, the occult, and live in high society. When it came to fashion, women used to wear very tight corsets under layered dresses, which often caused them to pass out. Modern Victorian fans choose bustle skirts, ruffled blouses, dresses with lace, umbrellas, and gloves.
Steampunk:
It is a Victorian style with sci-fi elements. To create an image, you can be inspired by pictures of scientists, engineers, and researchers of the Renaissance. Glasses, umbrellas, corsets, belts, suspenders, and futuristic details will be an excellent addition to the outfit.
Hippie goths:
They are reminiscent of the typical hippies of the '60s; the only difference is the love of gothic symbols, tarot cards, incense, and crystals. As for fashion, hippie goths prefer lace and light fabrics, long organza skirts. You can complement the image with gothic necklaces and pendants.
Myths And Truths About The Gothic Clothing Features 
There are some myths and misconceptions about Goth's fashion. Let us debunk them all here. So, let's start with the discussion here.
Gothic Style Appeals Only To The Past And Future.
Hats, long vintage gowns, feathers, and corsets are considered completely Gothic. It requires no rocket science to infer the fact that the past culture deeply inspires the Gothic style. But the myths are busting as the class is now coupled with gems and jewels, making a refreshing outlook altogether.  
This style is quite famous today, as it is used in recent music videos. The prominent characters use satin, velvety, and other materials to create the dark color. It's old at the same time it's old, and it's futuristic also.
The Style Promotes Individuality. 
American Fashion historian opines the word Gothic attaches itself with the negative images in life like death, decay, and destruction, something close to winter, in English poetry. But ironically, these negative images make it a suitable symbol of the rebellion. 
Conclusion
Several unusual choices exist to complete your goth look, from clothes and accessories to hair and makeup. You can get stiletto nails, pierce your nasal septum, or dye your curls neon to match your outfit perfectly. Gothic fashion attracts creative and strong-willed people. The Gothic image is always original and memorable.
From clothes and accessories to hair and makeup, several unusual choices exist to complete your goth look. You can get stiletto nails, pierce your nasal septum, or dye your curls neon to match your outfit perfectly. Gothic fashion attracts creative and strong-willed people. The Gothic image is always original and memorable.
Read Also: