Today, the Gothic style has received significant distribution in popular culture.
It can be found in fashion shows, TV shows, movies, and music videos. The prominent misconception people have about gothic outfits is that they must be black. Indeed, this style is dominated by black, but sometimes, fans of a gloomy worldview choose dresses of other colors, including white or even pink. Let's discuss the basic style properties.
The main elements of the Gothic image
To better understand the philosophy of style and gothic clothes, we have compiled a list of the critical elements of the image:
Colors: classic gothic fashion is dominated by dark colors, including black, red, burgundy, silver, and dark shades of green and blue.
Inspiration: сreating a gothic look means looking to vintage outfits from centuries past or the technological universe of the future for inspiration, from lace and puffy skirts to leather buckles and corsets, pair silk and velvet with contemporary pieces for contrasting accents.
Shoes: сhoose chunky unisex boots or platform or lace-up pumps with stylish embellishments that echo the rest of your wardrobe.
Accessories: Long gloves, belts, piercings, and lace umbrellas are all crucial details of the Gothic world. When buying jewelry, consider items made of light and dark precious alloys like roses, skulls, crosses, and bats.
No gothic look is complete without bold makeup that accentuates facial features. Consider using light foundation or powder, thick eyeliner, dark lipstick, and black polish.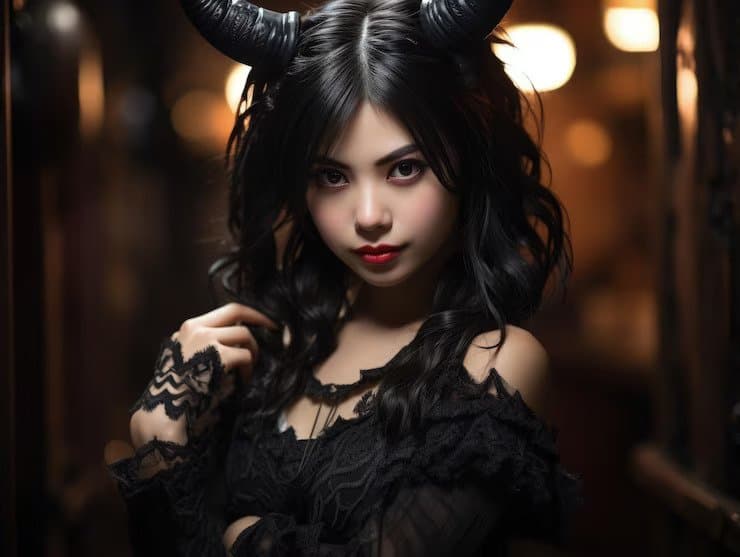 Types of Gothic styles
Since the Gothic style has existed for more than one century, and during this time, it has undergone many changes and influences. Whether you're a punk, goth, or romantic, dressing up to match your goth type will help you create an original style.
Consider the main goths' groups:
Victorian goths: reps of such subculture love the color black, the occult, and live in high society. When it came to fashion, women used to wear very tight corsets under layered dresses, which often caused them to pass out. Modern Victorian fans choose bustle skirts, ruffled blouses, dresses with lace, umbrellas, and gloves.
Steampunk: it is a Victorian style with sci-fi elements. To create an image, you can be inspired by pictures of scientists, engineers, and researchers of the Renaissance. Glasses, umbrellas, corsets, belts, suspenders, and futuristic details will be an excellent addition to the outfit.
Hippie goths: they are reminiscent of the typical hippies of the '60s; the only difference is the love of gothic symbols, tarot cards, incense, and crystals. As for fashion, hippie goths prefer lace and light fabrics, long organza skirts. You can complement the image with gothic necklaces and pendants.
From clothes and accessories to hair and makeup, several unusual choices exist to complete your goth look. You can get stiletto nails, pierce your nasal septum, or dye your curls neon to match your outfit perfectly. Gothic fashion attracts creative and strong-willed people. The Gothic image is always original and memorable.
Read Also: