Howie Mandel Is NOT Playing Matchmaker For Sofía Vergara: It Was A Joke!
Celebrities News●0 min read●
Howie Mandel made a joke about the new single status of Sofía Vergara. It seems like now Mandel is defending his joke.
During America's Got Talent's live episode on Tuesday, the 67-year-old TV personality made a joke about how the 51-year-old Vergara is single and seeking new bachelors after divorcing husband Joe Manganiello.
Mandel's Defense:
Later Mandel clarified that he does not need to play matchmaker for Sofía. He told Extra, "I think everybody watching who is available believes they're the perfect match for Sofía. I don't think Sofía, to be honest… she doesn't need my help. She really doesn't. I believe that she'll be fending them off. I mean, she is a great friend, a brilliant person, a businessperson, a powerhouse, and she has an amazing sense of humor. She checks every box, so whoever ends up with Sofía is going to be really, really lucky. Let's try and do it by the end of the season. We'll find her a match and leave it to America to vote."
Mandel also clarified that he does not think Sofía should actually wait after her much-talked-about split from Manganiello in spite of fans saying 'too soon' online, adding, "I think as soon as you're available, it's never too soon. She's fresh, people."
He also added, "People thought that was mean and insensitive. If you watched Sofía, she screamed after she came over to me and thought it was funny. She said, 'Yes,' so she's got a great sense of humor, and I wouldn't do anything to hurt a fellow — a friend first and a fellow co-worker."
He further joked that they were now open to receive submissions from any eligible and available suitor adding, "We will either swipe left or right."
What Was Mandel's Little Joke All About?
During the NBC talent show's live episode on Tuesday, mentalist and ventriloquist Brynn Cummings did an act. In the act, she kind set up Heidi Klum with Lovebird, an eligible bachelor puppet.
Once the performance was over, Mandel was all praises for Cummings' talent and quipped to the talented ventriloquist, "I have one more piece of advice for you: if you're looking for an eligible bachelors, you should've talked to Sofía because she's in the market right now."
Vergara seemed to be absolutely unaffected by this comment, responding with a cheer and a throw of hands in the air, while the host, Terry Crews, tried to intervene with a "No, we're not doing that here!"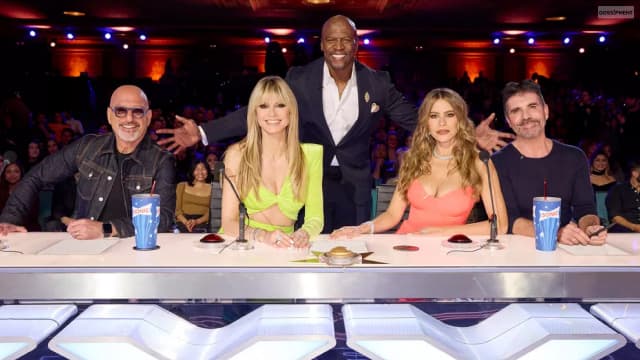 Sofia's Claim:
Mandel's comment has come only weeks after sources close to the former couple confirmed to PEOPLE that after a marriage of seven years, 46-year-old Manganiello and Vergara was getting divorced.
In a joint statement to Page Six, the couple said in July, "We have made the difficult decision to divorce. As two people who love and care for one another very much, we politely ask for respect for our privacy at this time as we navigate this new phase of our lives."
Only two days after the split was announced, Manganiello filed for divorce officially. As per documents found by PEOPLE, Manganiello cited 'irreconcilable differences' as the cause of divorce, listing their separation date to be 12th July. He also mentioned that the couple has signed a prenup.
However, in other court documents found by PEOPLE, Vergara has requested that the court uphold the couple's prenup. She has also requested that specific assets should stay with her, including her artwork, jewelry, and 'personal effects.' Plus, she also claimed whatever she has earned during as well as before her marriage to Manganiello as her assets.
Recommneded Reading:
■ Sofía Vergara And Joe Manganiello's Divorce: Who's Getting What
■ Teresa Giudice Strikes While the Iron is Hot: Mocks Sofia Vergara's Spanish Accent