Jennifer Lopez Gets Up on a Table to Celebrate Her 54th
Music News●0 min read●
Jennifer Lopez turned 54 recently and celebrated her birthday in style. She shared some photos from her birthday party on her Instagram account where she was seen dancing and grooving to music while standing on top of a table. Her guests at the party also kept her company by dancing alongside, as seen in the Instagram photo shared by her.
In the first photo, Lopez was captured getting into the birthday mood completely with her head thrown back and hands in the air. Lopez was wearing a shimmering silver backless gown and looking gorgeous as usual when dancing on top of the table.
In the second photo, Jennifer showed off her complete birthday look accompanied by a cocktail glass in her hand. She also had time for a quick outfit change. She posted a third picture of her in a black bikini, flaunting her toned figure.
She accessorized the bikini look with chunky gold jewelry, a trilby hat, and a sheer black printed kaftan.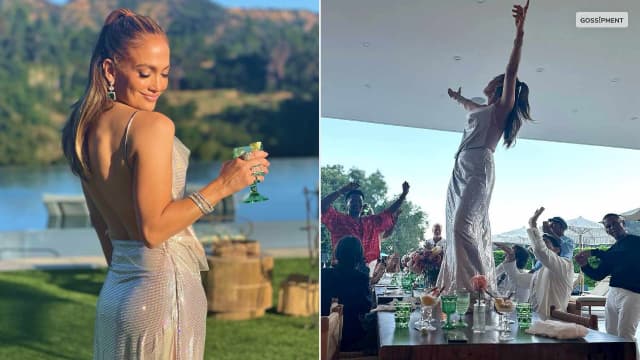 She captioned the three photos as "Birthday mood … all month!! Always a good day when Lola comes to play … #OnTheJLo: Birthday Edition coming soon,"
The singer has been in a celebratory mood this whole month having recently marked her first wedding anniversary with her husband Ben Affleck, earlier in July.
You may also be interested in:
■ Kevin Spacey Celebrates Aquittal: Goes for a Drink
■ Irish singer Sinead O'Connor passes away at the age of 56
■ Mick Jagger's 80 Years Of Prominence: Happy Birthday, Rockstar!