After Being Married For Four Years, Joe Jonas Still Retains His Divorce Lawyer
Celebrities News●0 min read●
Joe Jonas is still retaining his divorce lawyer even after being married to Sophie Turner for four years. 27-year-old Turner and 34-year-old Jonas got married twice. They got married in Las Vegas once and again walked down the aisle in France. The couple have two amazing daughters.
People contacted Jonas's representatives but did not respond to the request immediately. A representative of Sophie declined the comment, though. The couple made their first contact through an Instagram DM back in 2016.
In an interview with Harper's Bazaar UK, Sophie said, "We had a lot of mutual friends, and they'd been trying to introduce us for a long time. We were following each other on Instagram and he direct-messaged me one fine day, out of the blue."
It did not take their Instagram chat that Joe Jonas invited Sophie to meet him while he was passing through the UK during a tour. Her friends convinced her to meet him, as they thought it would be amusing.
It was in 2017 when Jonas proposed and asked for her hand. They put the same posts on Instagram, where she displayed her engagement ring and captioned the image, "I said yes." Joe put the same picture with the caption, "She said yes."
Their friends and family supported them immensely, and Nick Jonas wrote, "Ahh! Congratulations to my brother… and sister-in-law to be on your engagement. I love you both so much." Turner and Jonad had an impromptu wedding in Las Vegas and later had a lavish one in the French countryside.
Not just a musician but a family man as well
The couple has two daughters; their first child was born in 2020, and they had their second daughter in 2022. In an interview with PEOPLE the previous year, Jonas said, "It's been amazing to be a dad and to learn every day more about myself and what that's like."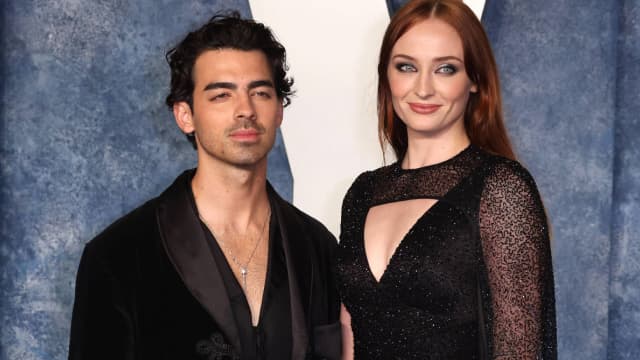 Last month, it was the musician's birthday last month, and Turner celebrated it while posting an adorable shot where they matched their pajamas. In the image, they wore green and white pajamas while they posed in the mirror, and Turner took the selfie.
Turner appeared for the ceremony that honored the Jonas brothers on the Hollywood Walk Of Fame with a star and showed her support. Each of the Jonas brothers spoke, and Joe Jonas did not miss his chance and gave a huge shout-out while he got his chance on the podium.
He said, "Sophie, what up homie? You're my partner in crime. You keep me motivated and inspired every day. I strive to be as cool as you. You got any plans after this?" Both their daughters were not present in the ceremony, but he also mentioned them in his speech. He said, "To my little ones at home, Daddy loves you to the moon and back."
Trending on Gossipment:
■ Tom Sandoval Brought Tii Back To The House He Shares With Ariana Madix
■ Kanye West and 'Wife' Bianca Censori No Longer Welcome By Venetian Boat Company After Indecent Exposure