Kanye West and 'Wife' Bianca Censori No Longer Welcome By Venetian Boat Company After Indecent Exposure
Music News●0 min read●
Kanye West and his"wife" Bianca Censori are reportedly banned by Venetian boat company since the rapper resent NSFW boat ride.
Venezia Turismo Motoscafi had rented the boat to the couple. On Sunday, the company spoke to Daily Mail Australia, saying the duo will "no longer be welcome" on their fleet.
The employees of the company were "completely unaware" of the Grammy winner's antics, the company claimed. West had dropped his pants halfway while on board. The photos have revealed West's bizarre stunt, which went public last week.
"The driver had to keep a lookout for traffic and did not see these obscenities," the company explained. "If this had happened, he would have immediately disembarked and reported the transgressors to those in authority."
Venezia Turismo Motoscafi has also blamed "a third person on board the taxi" who had accompanied the couple to have "obstructed the captain's view."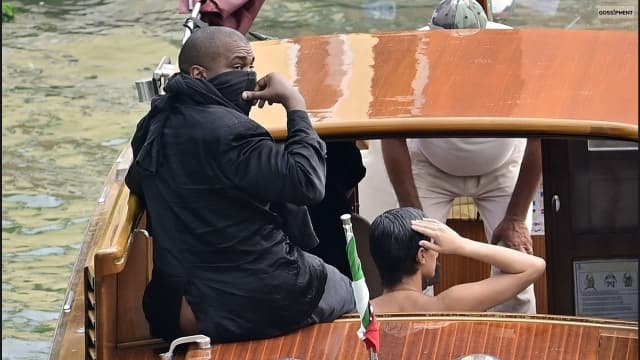 The Italian rental company has condemned the indecency, "We completely dissociate ourselves from such acts and behavior." "Mr. West and his wife will certainly no longer be welcome on board our company's boats," the company has announced.
The response has come nearly a week since Page Six released pictures of the Yeezy designer baring his hind while taking a ride on the Venice canals in a river taxi.
West, 46, was dressed in all black, partially shielding his face with a cloth covering as he sat on the vessel.
His "wife" was seated near him down below. After the vessel docked, Censori, 28, was spotted adjusting her leather trench coat while stepping off the boat with an unidentified female friend.
The "Gold Digger" rapper "married" the Australian architectural designer in January in a non-legally binding wedding ceremony. The wedding came close on the heels of the finalization of his divorce from Kim Kardashian two months prior.
Last week, sources denied the rumors that Kim, 42, is "desperately embarrassed" by ex-Kanye's antics in Italy or his PDA-packed outing with Censori.
"Kim has very much moved on," the source said. "[She] only wishes Kanye and Bianca the best."
You May Also Like:
■ Lindsay Hubbard And Carl Radke Broke Up And Called Off Their Fall Wedding
■ Sam Asghari Joined And Supported His Friends For The WGA And SAG-AFTRA Strike