Kanye West and 'Wife' Bianca C Leave Their Yeezys At Home AGAIN After Recent NSFW Outing
Celebrities News●0 min read●
Rapper Kanye West and his "wife" Bianca Censori go barefoot during a Tuesday outing in Florence, Italy. He was recently caught pants down on a boat ride.
Page Six has obtained pictures of them getting off a white taxi after an exclusive 45-minute shopping session at a local Balenciaga. The store was closed to the public.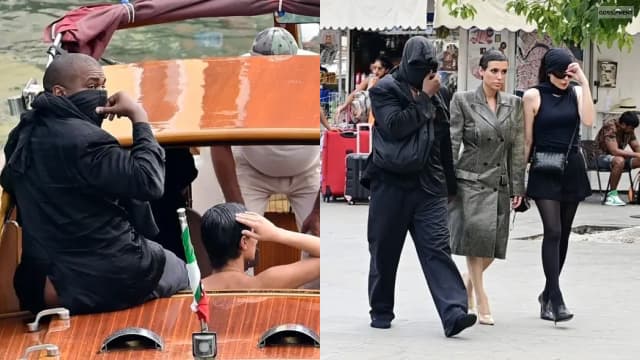 The "Gold Digger" rapper and the Yeezy employee later traveled to a hotel where they shared an aperitif with friends. Censori left no stone unturned to flaunt her curves in a skin-tight, white spaghetti-strapped maxi dress.
Her short, dark hair was slicked back, and her makeup seemed minimal. Ye was in his usual all-black ensemble. It included a black leather coat over a black long-sleeved shirt and pants. He also used a black scarf to cover his face partially.
Kanye's latest outing comes two days after he was spotted with his pants around his knees on a boat ride in Italy with Censori.
The Donda emcee sat on the boat's elevated and open area with his pants partially down for unspecified reasons. He wore all black for the ride. The Grammy winner's face was covered with a facial covering as he looked around, taking in the views.
Since the incident, the Sun has reported that West's ex-wife, Kim Kardashian, is allegedly "desperately embarrassed and worried" about his antics.
A source has revealed to the outlet that the SKIMS founder, who has four children with the Grammy-winning rapper, is "so worried about the new pics that have come out with Bianca" and does not know "how will she explain it all to the kids."
The insider added, "She's embarrassed and worried for him — he's wandering around barefoot with champagne in the street, something clearly isn't right."
Aside from the boat incident, the architectural designer has yet to leave much to the imagination with her braless in sheer body-hugging outfit choices.
Trending on Gossipment:
■ After Topless Photos Exes Irina Shayk And Bradley Cooper Get Intimate In Italy
■ Bianca Censory Catches Attention With Her Almost Nude Tights And Top In Italy