Kourtney Kardashian Went Through an "Urgent Fatal Surgery," To Protect Her Unborn Child
Celebrities News●0 min read●
Kourtney Kardashian finally broke the silence on Wednesday about going through an "urgent fatal surgery" on Wednesday to save her unborn child. She said how thankful she was to the doctors, and Travis Barker, her husband, who left the Blink-182 tour to stay by her during this difficult time.
She wrote an Instagram post saying, "As someone who has had three really easy pregnancies in the past, I wasn't prepared for the fear of rushing into urgent fetal surgery. I don't think anyone who hasn't been through a similar situation can begin to understand that feeling of fear."
She further added, "I will be forever grateful to my incredible doctors for saving our baby's life. I am eternally grateful to my husband who rushed to my side from tour to be with me in the hospital and take care of me afterwards, my rock. And to my mom, thank you for holding my hand through this."
Kardashian and Scott Disick, her former partner, have three children together, but this is her first child with Barker. They are expecting their first child after trying for a long time. They tried to go through other processes as well but finally decided to give that all up and rely on the natural method of conception.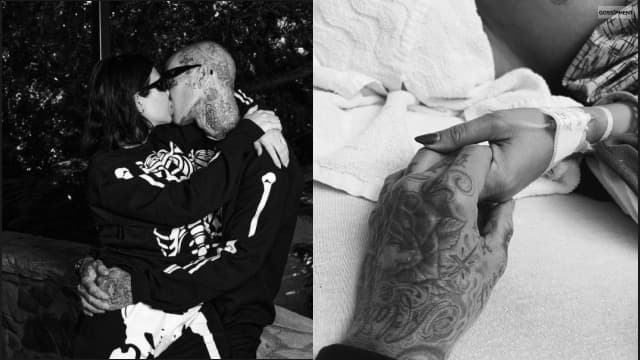 Blink-182 postponed their shows this Friday and made a statement that it was absolutely necessary for Barker to get back home for "an urgent family matter." Travis made the announcement that they were going to resume the tour on Friday.
Before the group announced what exactly happened, Barer made an Instagram post and requested his fans to pray with him, and gave an Instagram story from a prayer room.
TRENDING STORIES:
■ Jonas Brothers' First Performance After Joe Filed For Divorce, Shares a Group Hug
■ Britney Spears Suffered A Major Wardrobe Malfunction, Almost Exposed Her Breast While Partying