Pregnant Rihanna Bares Baby Bump At Dinner With Son RZA: Singer Pregnant Again!
Celebrities News●0 min read●
Rihanna continues to turn heads around with her killer maternity style.
The expectant 'Love The Way You Lie' singer at 35 looked chic when she made an appearance at one of her favorite LA restaurants, Georgio Baldi, on Saturday. 
The 'Ocean 8' actor was accompanied by her son RZA Athelston Mayers. Momma Rihana rocked a pair of light-wash denim, a floor-length coat that had 100 dollar bills printed, and a crop top. The artist finished her look with a silver necklace, two braided pigtails, and a pair of black boots.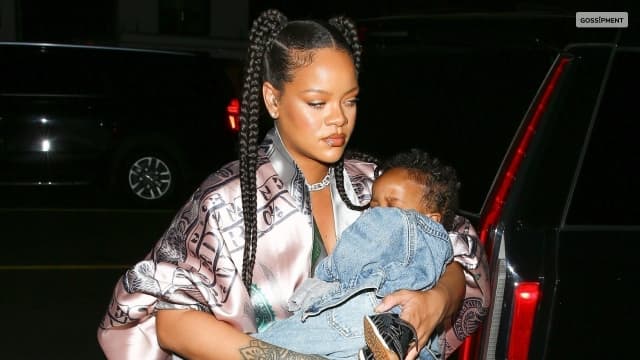 The Fenty Beauty founder proudly boasted her baby bump as she walked inside the hot Italian restaurant in Santa Monica, carrying her one-year-old son in her arms. Her little son looked equally stylish in a pair of denim and a matching denim jacket. But it seemed like baby RZA was in the middle of a nap since his mom was seen carrying his cute, black sneakers. 
Rihana started dating boyfriend A$AP Rocky in 2020. In January 2022, the pair announced that they were expecting a child, and in the month of May, they welcomed their first child. 
In February 2023, Rihanna surprised fans during her performance at Super Bowl halftime when she announced that she was expecting again. The 'Umbrella' singer had previously shared how becoming a mom has completely changed her outlook towards life.
In February, she told British Vogue, "It's everything, you really don't remember life before, that's the craziest thing ever. You literally try to remember it — and there are photos of my life before — but the feeling, the desires, the things that you enjoy, everything, you just don't identify with it because you don't even allow yourself mentally to get that far."
She farther added, "Essentially, from one person, I became two. You walk into the hospital as a couple and leave as a family of three. It's nuts. And oh, my gosh, those first days are insane. You don't sleep. At all. Not even if you wanted to. We came home, cold turkey, had no one. It was just us as parents and our baby. Man, you're a zombie for the most part."
The infamously private couple, who recently spent time vacationing in Rihana's native island country of Barbados, had fuelled wedding rumors previously when Rihana shared snaps from the 2023 Met Gala with the caption, 'shout outz 2 the bridal party….here come de bride #idoKARL #METgala2023.' 
The 'Kids Turned Out Fine' rapper had referred to Rihana as his 'wife' in June at an event, as revealed exclusively at the time by Page Six. Rocky A$AP spoke to the crowd at the Cannes Lions Festival during his concert, "I'd like to dedicate this song to my beautiful wife in the motherf–king building."
However, neither of the artists have addressed this speculation, nor do their public records display that they have sealed the deal secretly.
You may also be interested in:
👉 An Exclusive Look Inside Selena Gomez's Star-Studded 31st Birthday Party
👉 Christopher Nolan's Oppenheimer Takes The Box Office By Storm On Opening Weekend
👉 Barbie Goes To Party With A Staggering $182 Million, Oppenheimer Erupts Close Behind with $93.7 Million