Did THAT Just Happen At The End Of Sex Education Season 4?
Web Series●0 min read●
Sex Education is streaming live on Netflix – and did just THAT happen? But wait, before we get to that smackdown ending, let's talk about this much-awaited release!
Sex Education season 3 hit Netflix early in September 2021, and we have been impatiently anticipating the next season for nearly two years now. Our favorite high school gang is FINALLY back for Senior Year. 
After four kickass seasons of being one of the most sex-positive, inclusive, and diverse shows on television, the show is here with one last time, and that too with a finale episode that satisfyingly wraps up the major story arcs while leaving many things to the imagination of the audience.
As a show that celebrates the power of therapy, it makes a whole lot of sense that Sex Education ends most of these story arcs with simple but powerful conversations between the characters, showing how transparency can be life-changing.
Much of the final season is all about the progressive Cavendish College and the battle between O (Thaddea Graham) and Otis (Asa Butterfield) for being the only sex therapist on campus. Here's everything you need to know about the 4th and final season of Sex Education – you are welcome! 
Sex Education Season 4 Cast: Who Will Star In The Show?
The Sex Education season 4 cast has been killing it – but that doesn't mean we can overlook all the cast members and the new additions. After season 3 ended, there were multiple changes in the cast. Let's look at the season 4 cast for the show!
Season 4 Is All Set To Mix Things Up:
On the red carpet for BAFTAs, the talented Jodie Turner-Smith said that she will be starring in the fourth season of Sex Education and that she will be in a few scenes with Ncuti Gatwa. She said, "You may or may not see me in a little Netflix show called Sex Education. First of all, all my scenes were with Ncuti Gatwa, who – I DIE for him – and he's my favorite character on the show. So when he called me and asked me to do it, I was like: 'I don't care how much they're paying, I'm doing it."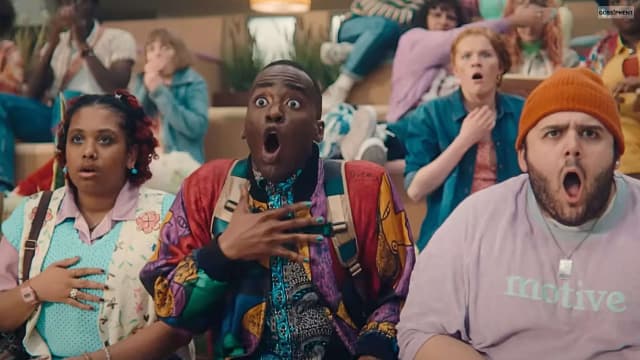 Until this point, we have seen the core characters of the show appearing in all three seasons, but the creators seemed to be switching things up for the 4th season.
In August 2022, Jim Howick, known for playing Colin Hendricks, spoke to Digital Spy that he was not sure if he was making an appearance on the fourth installment of the show – "I think I am, but do you know what? I genuinely don't know yet, and that is the honest truth. I don't know. They're filming now, but it's such an enormous cast, and it goes on for ages… I would know if I wasn't. I think I'm probably in it, but probably in the second block, and that film until February. So we've got ages to go. It's not like a sort of normal British sitcom where filming is kind of six to eight weeks. It's five months."
The official Twitter page for Netflix UK & Ireland posted about how nobody apart from Dan Levy will join the cast Sex Education cast as a new teacher, Mr. Molloy, who plays Maeve's English professor at a prestigious American college where she is in a gifted and talented program.
The Goodbyes:
In terms of the characters who haven't returned to season 4, Sex Education, Emily Sands (Rakhee Thakrar) is not going to be back for the final season. In the Summer of 2022, Thakrar told Digital Spy, "I'm not part of the new series. I can't really talk about why. But I'm so proud of the show and grateful to have been part of something so important. There is nothing bad about Sex Education."
Lily Iglehart (Tanya Reynolds) is also not in the 4th season, and so is her on-screen partner Ola (Patricia Allison). 
In July 2022, Reynolds spoke to Digital Spy, "Lily is not coming back, either. Her storyline was just wrapped up quite nicely at the end of season three. So she's got no loose ends to tie up; she had quite a happy ending. At the end of last season, everyone kind of gets scattered, and I think that's just a good opportunity to bring in some new characters. I absolutely will miss [her]. I love Lily with my whole entire being, and I had the best time in those three seasons, and I will miss it for sure. I will miss Lily, and I will miss the gang. But it just kind of feels very right. It feels like time."
In June 2022, Patricia Allison appeared on Capital Xtra's breakfast show and talked about not reprising her role as Ola – "I absolutely have loved being on Sex Education so, so much and playing Ola. But unfortunately, I won't be joining the team for season four. Some other opportunities have come up. So, I've been doing it for three years, and I've genuinely loved it."
Sadly, Olivia (Simone Ashley) and Anwar (Chaneil Kular) aren't in Season 4 either. When This Morning hosts Josie Gibson and Vernon Kay asked Ashley about reprising her role in the Netflix production, she replied with a 'no,' and added, "I get asked that all the time. No, I'm a Bridgerton girl now."
The Ones Who Are Back:
If you have watched the Sex Education season 4 trailer, then you already know the characters who are definitely coming back. Plus, the show is streaming live on Netflix – so it's not difficult really, but here you go!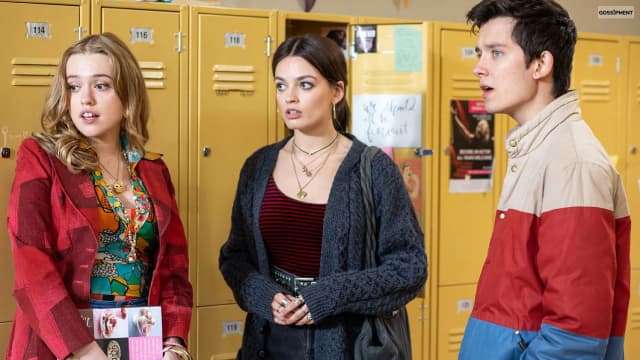 The rest of the cast? The characters who have appeared between seasons 1 to 3 include,
■ Jean Milburn (Gillian Anderson),
■ Otis (Asa Butterfield),
■ Eric (Ncuti Gatwa),
■ Adam (Connor Swindells),
■ Aimee (Aimee Lou Wood),
■ Jackson (Kedar Williams-Stirling),
■ Ruby (Mimi Keene),
■ Viv (Chinenye Ezeudu),
■ Rahim (Sami Outalbali),
■ Isaac (George Robinson), and
■ Cal (Dua Saleh).
Our favorite, Maeve (Emma Mackey), did suggest that she will not be returning as well. She even told Hunger, "Sex Education is so momentous as a concept and as a show, and the cast is phenomenal. I genuinely care about them all a lot, and I made lifelong friends. But the bittersweet nature of it is that I also can't be 17 my whole life."
However, Emma Mackey has thankfully returned – although Netflix's promotional picture of Dan Levy's character and Maeve was a hint, yet we didn't take Netflix seriously until we saw season 4 last week!
Sex Education Season 4: Ending Explained!
*spoilers ahead.*
So what happens at the end of Netflix Sex Education Season 4? Here's a recap!
Do Otis And Maeve End Up Together At The End Of Season 4?
From the day we heard about the all-elusive Sex Education Season 4 release date, we have only been asking the most important question – do Otis and Maeve end up together? Going into the finale of the show, Maeve and Otis have already said their goodbyes. The season starts with Maeve at a prestigious American university, where she struggles to impress her professor Thomas Molloy.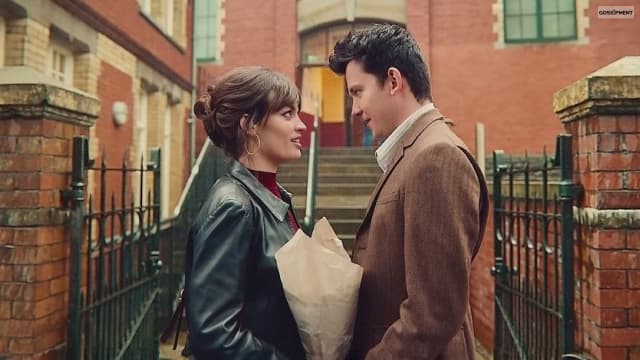 After receiving harsh criticism, Maeve returns home after her mother suffers from a fatal overdose leading to her death. While Meave deals with her complex feelings of grief, her confidence is also shattered when her professor tells her that she is not cut out to be a writer. Maeve is adamant about not going back, but this changes when she meets Jean. Jean gives her the reassurance and motivation that she needs but never received growing up.
A conversation between O and Otis makes the latter realize that his sexual problems stems from a fear of heartbreaks, just like Jean. With this information, Otis can finally let go, and sleep with Maeve after the pair confess their feelings to each other for the first time. After scattering her mother's ashes, Maeve leaves for the United States. Otis spends the rest of the final episode dealing with his breakup with Maeve since the couple realizes that long distance is only going to hold them back.
Otis does admit suppressing his feelings about Maeve's departure will only make things difficult. It is a hopeful ending since we know that taking a much-needed break from the somewhat codependent connection with Maeve is probably for the best.
Otis shows growth when he ends up giving the position of a sex therapist to O, finally admitting that he isn't entitled to take an already established role away from her.
Otis Loses Ruby, But He and Jean Are Stronger Than Ever:
The students at Cavendish College are not so receptive to O's victory since she was exposed previously for bullying Ruby.
By this point in season 4 of Sex Education, it becomes clear that though the students of Cavendish mean well, they do engage a lot in toxic positivity – overly policing gossiping, keeping up a happy facade at all times, and holding everyone at impossible high standards.
Ruby experiences a major turning point when she requests the students to give her a second chance to O and then accept her as the therapist of the school. But she also draws some boundaries when it comes to her feelings for Otis, who keeps stringing her along, ghosting as soon as Maeve comes back.
When Otis states his desire to stay friends, it is empowering to watch her deny him because she realizes that she does not owe him anything.
Another relationship that improves for the better is that of Jean and Otis' – the pair have frequently been at odds throughout the whole show over Jean's involvement in Otis' life, and though they fight again in the episode where Maeve leaves, by the episode's end Otis realizes it was the right thing to do.
And Jean comes to terms with her postpartum depression – she is still in recovery from her traumatic childbirth and recent breakup. Joanna, her sister, confides in Jean about the sexual abuse she experienced in childhood and plans to move back in so that she can help take care of Joy.
New arrival, Abbi also finds out how to overcome toxic positivity, which she had adopted as a kind of defense mechanism after getting rejected by her family for coming out as a trans woman. She expresses that she is scared of sharing her negative feelings because she thinks it will push others away.
But her best friend Aisha and boyfriend Roman want to be there for her. Plus, Roman and Abbi are also able to rekindle their relationship sexually after repairing their communication.
Eric and Adam Get Happy Endings — but Not With Each Other:
The friendship between fan favorites Otis and Eric ends on a positive note after they both agree to stop ignoring all their personal differences and instead begin communicating about them. By the season's end, Adam and Eric, who had broken up previously, reach an understanding when they see each other briefly at a funeral. 
Eric also goes on a huge religious journey as he tries to reconcile being Christian with being gay, deliberating over whether or not to get baptized. He goes to church wanting to get baptized, but then when he doesn't get the support he is seeking from his community, Eric doesn't go through with baptism. After talking to Pastor Samuel and having multiple visions of God, he realizes his calling to help the church become more accepting – he decides to actually become a pastor.
Adam finally settles into a job that he loves – to work with animals on a farm and train to become a horse riding instructor. He becomes relatively more comfortable with his sexuality, coming out as bisexual eventually to his colleague Jem, who asks him out promptly.
Adam's anxious relationship with Michael, his father, starts mending once Michael takes time to deal with his own childhood trauma and makes an effort to truly know his son on a personal level. In an episode, Michael, who is now a substitute teacher with a developing interest in cooking, hugs Adam proudly after seeing him at work, telling him he loves him.
A reunion between Adam's mother, Maureen and Michael appears to be on the cards as well as the three end their scenes watching television together, seeming like a family finally.
Aimee's Healing Journey Reaches a Perfect Conclusion:
The best storyline overall belongs to Aimee, undoubtedly, who was assaulted on a bus sexually in Season 2 and has been incrementally working since then through her resulting intimacy issues and trauma. 
The 4th season also sees Aimee striking a friendship with Issac – she supports his campaigns for an improvement in accessibility on campus while he guides her to utilize art as a way to heal.
Wearing the denim she was assaulted in, Aimee takes pictures of herself in different locations doing multiple things, conveying how she actually carries the trauma all around her. She also takes photographs of herself burning her pair of jeans and that too at the bus stop.
As Issac and Aimme develop feelings for each other in Sex Education Season 4, Aimee begins to wrestle with whether or not to pursue it, being aware of Issac's difficult history with Maeve, her best friend. Initially, Maeve tells Aimee that their (her and Issac) brewing romance makes her very uncomfortable, but eventually, she gives the new couple her blessings.
Issac understands that Aimee wants to take things very slowly, and when she is feeling ready by the finale, they finally kiss, making them one of the only ships to survive the whole season.
The Future Looks Optimistic for Jackson, Viv, and Cal:
After a major health scare, Jackson spends most of the final part of Sex Education Season 4 trying to find information about his biological father. After coming across love letters between his mother, Roz, and a man named Jerome, he goes to meet him, only to get the door slammed shut in his face.
Roz and Sofia, Jackson's mothers, later tell him the truth about his parentage. He wasn't born from a sperm donor but rather from an affair between Jerome and Roz that happened before Roz and Sofia met. Although Jackson is angry at his moms for finding this out, it is evident that the trio will be able to deal with the issue together as a family.
In this season, Viv starts dating a fellow student called Beau. But his jealous and controlling behavior starts surfacing. Although Viv is defensive about her boyfriend initially, Jackson expresses concern for his best friend. After Beau starts getting physically forceful with Viv, she simply breaks down to Jackson.
In the season finale, Viv summons the courage to finally end things with Beau, demanding that he should just stay away from her. Viv and Jackson's storylines were slightly developed in season 4, as compared to the other characters. However, this friendship still stands out, and the audience knows they will continue to be there for each other every step of the way.
Finally, there is Cal, who wrestles so much harder with gender dysphoria throughout the 4th season, along with testosterone's impact on their sex drive. Cal constantly grapples with the fact that they will have to wait for more than five years before undergoing surgery on the NHS or choose private, which would cost over £10,000.
Most of the final episode revolves around the alarming disappearance of Cal, but they are found eventually by Jackson and Eric, who waste no time in reminding Cal they are not alone. Jackson also vows to be a better friend in the future. The latter part of the finale episode is set at the school's fundraiser event, where the clinic election results are announced.
After Eric's church says no to the funds due to the progressive values of Cavendish, the college plans to donate them to the top surgery of Cal instead.
Otis' and Maeve's Bittersweet Ending Wraps Up The Series Realistically!
At the very core of Sex Education Season 4 is the will-they-will-they-won't dynamic between Maeve and Otis. Naturally, many fans are surprised that the pair are going their separate ways when the season ends. Undoubtedly, this is the right decision – it becomes clear from Maeve's last letter to Otis that he did manage to have a very lasting impact on her, helping her to finally break down her walls.
But while Maeve's arc is about letting her guard down and, most importantly, trusting others, it also has always been about carving out a better life for herself and chasing her intellectual dreams. Her goal has always been to leave Moordale, and it would have been inauthentic to make Maeve sacrifice intellectual opportunities in America for Otis.
Besides, who really knows what the future actually holds – Maeve is seen wearing Otis's t-shirt! The couple did not separate because they did not love each other. But because they both needed different things at this point in life, they had to put themselves first. There is still a possibility that they could later reunite down the road.
Whether they are a fleeting romance or the loves of each other's lives, the show demonstrates the importance of relationships formed in high school. The simple fact that most of the popular relationships in the series – Adam and Eric, Ruby and Otis, Maeve and Otis – end up apart actually highlights the creator's commitment to expressing and depicting teenage love lives realistically. At the same time, the show also highlights how short-lived relationships can be meaningful.
At the end of the 4th season, the Sex Education characters ultimately feel that they are ready to move on with the rest of their lives, armed with knowledge and skills to navigate love and sex in healthy ways.
MORE FOR YOU:
👉 The Hollywood Writers Strike: Will it End Anytime Soon?
👉 The MTV Video Music Awards Grew Substantially In Viewership: Gossipment's Favorite Memorable Moments!
👉 Christopher Briney Of The Summer I Turned Pretty Fame Is Hot-As-Hell: Here's What You Need To Know About Him