Tom Cruise, who is currently filming for Mission Impossible, lands in Alison Webb's Warwickshire garden. He posted photos with her family and her children and even gave them a ride in the helicopter.
What Exactly Happened On Alison Webb's Family Garden?
The Mission Impossible star was in the Warwickshire area for shooting the seventh film of this franchise. However, as the Coventry airport was temporarily shut, he had to land his helicopter in Alison Webb's family garden.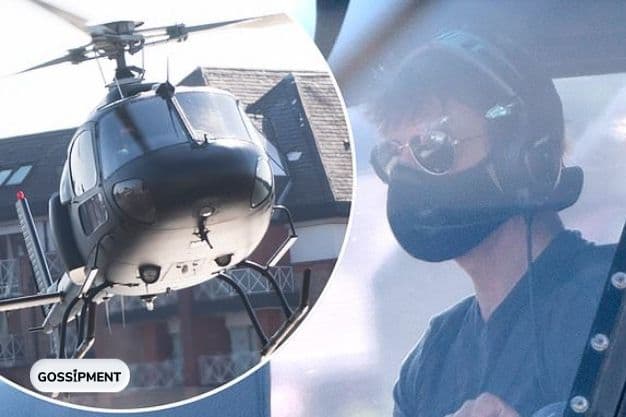 The family was told that their garden was needed for some time for an emergency helicopter landing. Of course, they knew that it would be a VIP but little did they know that it would be Tom Cruise himself.
Alison said:
'It turned out to be an incredible day. It was surreal, I still now can't believe it happened.'
Oh, to have the legend @TomCruise land in your garden and give you a free ride in his helicopter! Lucky Alison and family 🚁 #TomCruise #HelicopterRide #RomedyNews pic.twitter.com/Wi7TnElKfd

— Romedy NOW (@RomedyNow) August 26, 2021
Tom Cruise posed for pictures with the kids and even took the family to a ride on the helicopter. Alison was even excited that her kids got to see a helicopter landing in their garden. And it was indeed more exciting when the Knight and Day star came out of the chopper.
When he came out of the helicopter, he simply said 'wow,' and it was indeed a wow moment for both the star and the family. Tom came straight out of the helicopter, elbow-bumped the family members, and went for a chat with the children.
Cruise's Filming Days
Tom Cruise is currently shooting for the latest part of Mission Impossible with Pom Klementieff and Hayley Atwell in  Birmingham's Grand Central. Several fans shared photos of Cruise. It has made many locals starstruck when they saw Cruise outside the shopping mall.
OFF THE RAILS: A bystander captured the moment the crew of the upcoming "Mission Impossible 7," movie crash a train into a quarry in England. https://t.co/XqfBwP6uk3 pic.twitter.com/cT0hx4LuOj

— ABC News (@ABC) August 25, 2021
Tom Cruise completed over 500 skydives and 1300 motocross jumps in preparation for this massive stunt in 'Mission: Impossible 7'.

(via @comicbook)

— Lights, Camera, Pod (@LightsCameraPod) August 26, 2021
They saw cameras, people, and lots of lights but could not quite grasp what was happening. So when people were walking past sipping coffee, they saw it was Tom Cruise shooting the film. So many people said that they are excited to walk past the place where Tom was shooting the film, and it even generates more curiosity in them to watch the movie now.
The same thing happened to Alison Webb's family also. They did not realize it would be Tom Cruise landing in their garden. But, when he did, it indeed turned out to be a surprising day for the family.
Final Thoughts
We think Tom's gesture to let the children of Alison Webb ride in the helicopter was genuinely fantastic. The Mission Impossible star has been making many public appearances lately, and people are claiming that he is a humble man. We have also watched Tom take the pandemic restrictions quite seriously, even when making these public appearances. So, we wish him all the very best for his film.
Read More: