And Just Like That Season 2 Is Almost Here: What To Expect?
Web Series●0 min read●
We are not ready to let go of the whole Sex And The City world…or so it seems. 
Earlier in the year, HBO had announced that the very successful (and isolating) SATC reboot, And Just Like That, has been renewed for another season.
While Season 1 saw Carrie Bradshaw (played by Sarah Jessica Parker),  Miranda Hobbes (played by Cynthia Nixon), and Charlotte York (played by Kristen Davis) returning back on screen to navigate their lives in New York minus the all-elusive Samantha Jones. 
Kim Cattrall had very openly mentioned earlier how she had no interest in reprising her beloved SATC character, but it does seem like she might have changed her mind (see the update below)! The official press release did mention how And Just Like That had one of the strongest debuts on Max to date.
Nixon, Davis, and Parker are all executive producers, along with the showrunner Michael Patrick King.
In this context, King spoke about rebooting the show in a statement,
"I am delighted and excited to tell more stories about these vibrant, bold characters played by these powerful, amazing actors. The fact is, we're all thrilled. And Just like That… our Sex life is back."
Kim Cattrall Will Reprise Her Role As Samantha Jones:
The And Just Like That Season 2 trailer doesn't disclose how Kim Cattrall is going to make a small cameo appearance in the second season of the SATC revival, according to Variety.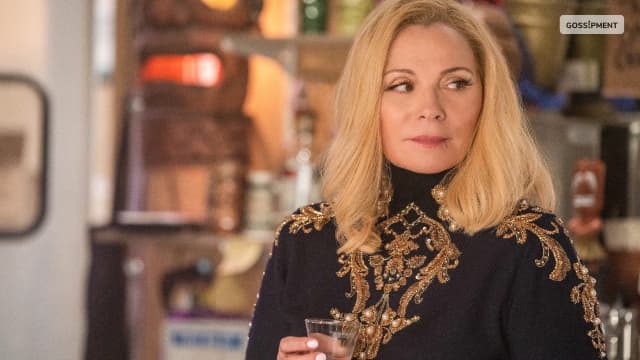 Reportedly, Cattrall will be there in a single scene shot in NYC. Variety further reported that Cattrall didn't interact with any of her costars, including SJP, or even the showrunner, King. The scene actually involved a conversation over the phone with Carrie.
And Just Like That Season 1 ended in Paris with Carrie sending Samantha a text about meeting up for drinks – to which Samantha replied with a 'YES.' We can assume that the two friends reconciled over a Cosmopolitan in Paris.
However, both Max and Cattrall's representatives are yet to confirm this news publicly. But we do have confirmation from both The New York Times and Variety about the same – the outlets also mentioned the famous costume designer of SATC, Patricia Field, who wasn't handling the style for the reboot, specifically returned to style Kim for her highly anticipated appearance.
John Corbett Will Join The Show As Aidan:
It's time for Aidan fans to rejoice – Carrie's second GREAT LOVE is BACK! According to Deadline, John Corbett, who played Aidan in the original show, joined the And Just Like That Season 2 cast to resume his role, and that too in a crazy multi-episode arc.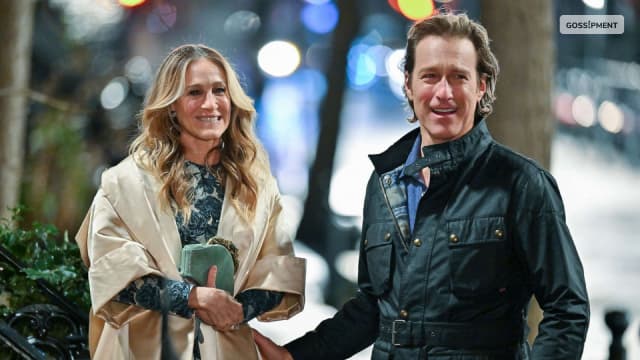 Corbett, like Cattrall, was very notably missing from Season 1 of the show. Plus, wasn't Aidan Steve's long-time friend and business partner? But somehow, while Steve was dealing with his separation from Miranda, it was strange to see Aidan not even being mentioned once.
Last April, the My Big Fat Greek Wedding actor teased his come back in the SATC universe with the words, "I think I might be in quite a few episodes." After an entire year, King told Deadline that Season 1 had no plans to bring back Aidan since the first season was about Carrie's grief journey after the untimely death of Big (played by Chris Noth).
In the second Sex and the City film, Aidan makes his last appearance when he meets and has a moment with Carrie in Abu Dhabi – but Aidan is married and a father to three kids. While we have no clue about Aidan's storyline yet, SJP did share a series of pictures to tease Corbett's return on the gram with the caption, "Shh. Don't tell anyone."
A few weeks later, Parker shared another image of the pair – this time in the middle of a dramatic kiss accompanied by the caption, "This. Is. Not. A. Drill."
Yes, There Will Be More Che Diaz:
If you thought the whole John Corbett or Kim Cattrall And Just Like That Season 2 was the only source of anticipation, then you were absolutely wrong!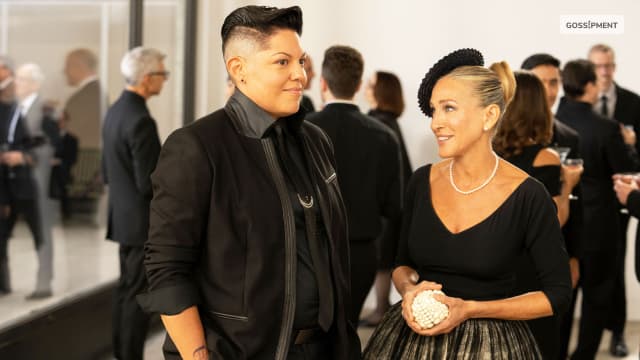 Because the audience does want more of Che Diaz (played by Sara Ramirez). The trailer confirmed that we would get more of Che Diaz, a nonbinary comedian, and podcaster, in Season 2. Plus, Parker and Ramirez were photographed on set, strolling together on a rainy day in NYC.
Sam Smith Is Joining The Cast:
Unholy singer Sam Smith posted a 'sneak-peek' photograph on the gram from the sets of And Just Like That Season 2.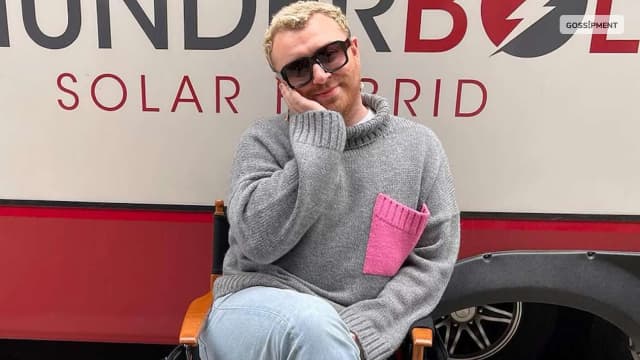 Smith posted this photo with the words, "Up to something unholy on set." We don't know whether Smith will be in for a cameo, playing a recurring character, or even what role they will be playing.
But we don't have to wait long to find out about Smith's role or even Aidan's storyline because the And Just Like That Season 2 release date is just around the corner – it's officially releasing on the 22nd of June on Max.
Carrie Is Finding Her Groove Again: The Plot(?)
In the official trailer for And Just Like That Season 2, Carrie is trying to find her groove again after the death of Big. She is having casual sex, stepping out, and getting back to her life – all seems to be going very well until (yep, you guessed right) her former love interest (and even fiancé), Aidan Shaw, comes back into her life.
There is no way this won't work out…again. Check out the trailer below.
Apart from Aidan and Carrie getting back together (?), the second season of the SATC revival will see Miranda traveling to and fro from New York to Los Angeles just to be close to Che. The trailer, however, makes it clear that everything isn't running smoothly for the pair in California.
Charlotte, on the other hand, is busy with parenting duties, especially since Lily has become sexually curious – the trailer also shows that Charlotte is planning to go back to work after quitting her job in the art gallery to become Mrs. MacDougal decades ago.
The Conversation Starter Effect:
So, if you were wondering when is Season 2 of And Just Like That will release, then you will be excited to know later this week, you will finally get to watch the first two episodes of the show. And then every Thursday, just like that, you can watch an episode of the new season.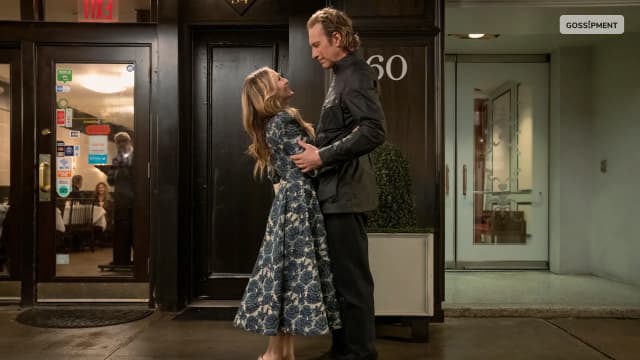 Now, let's talk about how And Just Like That became a conversation right after the first season dropped on Max in December 2021.
Undoubtedly, the first season did feature multiple culture-shifting moments like Big's death which was followed by several women making allegations of sexual assault against the actor. Of course, Samantha's absence was definitely a huge shift, but so was the introduction of the nonbinary character, Che Diaz – Che's introduction directly encouraged Miranda to start reconsidering her sexuality.
Plus, after Willie Garson's untimely death, the character of Stanford Blatch was also written off – although he did make a few appearances in the first few episodes.
The head of HBO's original content, Sarah Aubrey, spoke at length about the dialogue revolving in and around the show in a statement related to the return of season 2. She mentioned,
"We have been delighted by the cultural conversation generated by these characters and their stories, set in a world we already know and love so much. We are proud of the work Michael Patrick King and our wonderful writers, producers, cast, and crew have done to bring these stories to the screen. We can't wait for fans to see what's in store for season 2!"
The Girls Are Back With Samantha: Wrapping Up And Just Like That Season 2!
The thrillingly divisive and flamboyantly styled Sex and the City revival, And Just Like That Season 2 following Carrie, Charlotte, and Miranda in their 50s is back – and this time, Samantha is coming back too.
So what if it's just a cameo?
At least the girls are reunited – the new season is going to be packed with so many more cosmos, dates, and podcasting! But what are your thoughts on this revival? Feel free to share your thoughts and stories related to SATC in the comments below.
You May Also Like
👉 The Hidden Secrets of the Star Wars Family Tree: An In-Depth Analysis
👉 Never Have I Ever Season 4: Will Devi End Up With Ben, Or Is Paxton Coming Back?