What is Dalton Gomez famous for? Meet Ariana Grande's Husband
Celebrities●0 min read●
Ariana Grande is a worldwide name whereas her husband dalton gomez is still a mystery. Keeping everything under wraps is a social fad for celebrities these days but Gomez takes things a step further with his uber lowkey profile. He is known to avoid social interactions and limelight, something his wife is always in the middle of.
Let's find out who this mystery man is that has Ariana absolutely smitten.
Biography
Dalton Jacob Gomez (born August 7, 1995) is a premium real estate agent in the United States.. Dalton was born and raised in Southern California and has worked in the luxury real estate market for five years.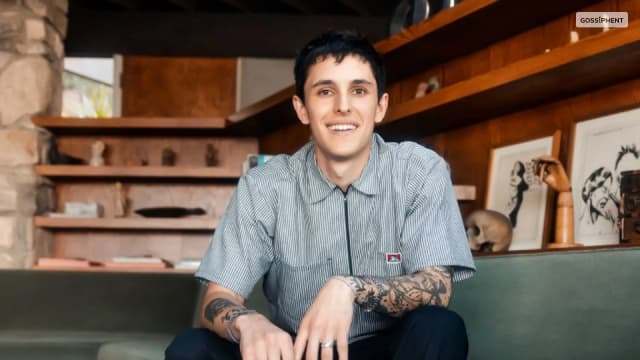 He grew up in the county of San Bernardino, east of Los Angeles, with his family. He has an elder brother, Dakota Gomez, who is a well-known tattoo artist, and a younger sister, Tori Gomez. Ariana is a fan of Dakota and Tori on Instagram.He grew up in the San Fernando Valley, east of Los Angeles, with his family.
Gomez, unlike Grande and many of her celebrity exes, isn't an entertainer. He's a real estate agent based in Los Angeles.
Currently, Gomez works as the Director of the Estate Division for luxury realtor Aaron Kirman.
He's worked with some of the biggest names in the industry, according to his company's website.
Gomez says he's been in the luxury market for seven years, and during the first three years of his career, he worked as the Director of Operations for luxury L.A. real estate firm Aaron Kirman, managing all day operations for "running all day-to-day operations for one of the top luxury real estate teams in L.A."
Unlike Grande, who was brought up in the Boca raton area of Florida, Gomez is a native of Southern California, although it is unclear where he was born.
While Gomez may not be as well-known as Grande, he does share some commonalities. In 2017, he posted a picture of himself with Miley Cyrus and some other pals on his Instagram Story and wrote, "Hoodlums."
Relationship History With Grande
Grande and Gomez were spotted kissing in a bar in Northridge, Los Angeles, in February 2020. It was reported in March 2020 that they had been dating for two months. Grande revealed the relationship in the music video for "Stuck With U" in May 2020, in which the two looked to be hugging passionately in Grande's Los Angeles home, where the couple was quarantined together.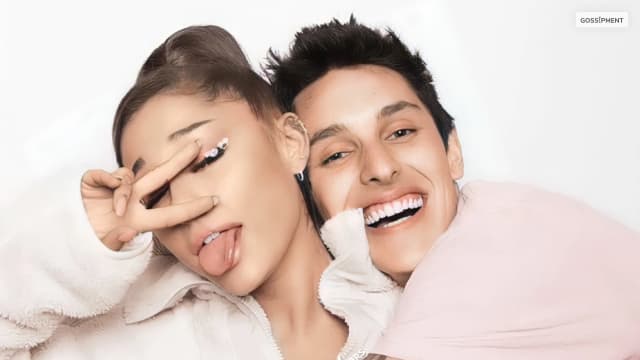 Grande announced her and Gomez's engagement in an Instagram post on December 20, 2020. Gomez created the engagement ring as a memorial to Grande's grandfather, utilizing a pearl from one of his tie pins that Grande had moved on a ring. Grande and Gomez married in a private ceremony on May 15, 2021.
After a brief relationship of a few months, Ariana Grande surprised fans in 2021 when she secretly tied the knot with real estate agent boyfriend Dalton Gomez. Two years later, there's still so much we don't know about the couple's low-key relationship.
Grande and Gomez were first linked in March of 2020, when they were seen kissing in a bar. Grande and Gomez made their first public appearance together in May of 2021, when they both starred in the "Stuck With U" music video. (This was Grande's first relationship after splitting from comedian Pete Davidson in August of the same year.
Trivia we love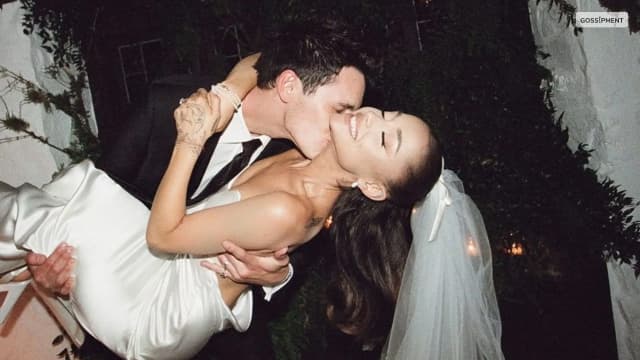 ■ He appeared in the video for "Stuck With U."
■Ariana and Dalton both have the tattoo "loml." The abbreviation stands for "love of my life."
■ He appeared in a music video for "Rain On Me."
■ He works for the Aaron Kirman Group, a Beverly Hills real estate firm.
■ He created the concept for Ariana Grande's "Positions" music video.
■ He attended Citrus Valley High School in Redlands.
■ His brother does all of his tattoos.
■ Tori and Dakota are his two siblings.
■ He and Ariana Grande have been married for two years.
Ariana on her husband, Dalton
Grande and her husband Dalton announced their engagement in December 2020 on social media, posting a photo of the diamond and pearl ring on Instagram with the caption "Forever n then some."  A source told Us at the time that Grande was "beyond excited" to take the next step in her relationship with Gomez. 
She has really enjoyed getting to know and falling in love with Dalton out of the spotlight, something she didn't get to do in her past relationships," an insider said. "They are so in love and committed to spend the rest of their lives together." Grande later posted a previously unseen photo from their private wedding in Amsterdam.
 In April 2021, the REM Beauty founder posted a series of pictures with Gomez on her Instagram Story, captioning it, "!!! my heart my person !!!"(sic) she wrote. "thank u so much for being u." (sic)
Grande paid tribute to Gomez on Instagram Story, where she posted a photo of the two of them seated side-by-side in a large wooden clog. Grande also uploaded a previously unseen photo from the couple's intimate wedding. "Happy birthday to ,my baby, husband, and best friend!!!," (sic) Grande captioned the post.
On Thanksgiving, Grande shared a photo with Dalton and their dog. She captioned it saying, "Nothing was ever as loud … Sending you all so much love I hope you feel it from here," on Instagram.
"2 (3.5 together!!!)," Grande shared a sweet snap from their wedding in 2021 to commemorate their second anniversary, captioning it, "I love him so." Later that month, an insider told Us that the couple "still feel like they're in the honeymoon phase".
Latest Updates
Although everything seemed to be dreamy in their relationship as well as marriage, Ariana and Dalton have decided to part ways after 2 years of marriage. Grande, who has been shooting for her upcoming musical fantasy, Wicked, was in the UK for the most part of this year. Dalton has reportedly been seeing others for months.
Gomez tried to make it work back in January in a last-ditch attempt. But that did not work out for the couple either. Ariana was then spotted at a star-studded weekend Wimbledon match amid split rumors, noticeably without her ring. This move added strength to the rumors. She was last seen with her ring at the Jeff Goldblum concert in London. 
Conclusion
Celebrities are known to be under intense speculation throughout their lives. Grande is an international star who has an overwhelming fandom. Gomez, known to stay out of the limelight, could not cope with her schedule, especially after pandemic restrictions were lifted. They met during the pandemic when they could spend maximum time together. Things fell apart once everything got back on track. Ariana and Dalton are now headed for divorce.
Are you an Ari fan? Do you have thoughts to share on her divorce? Tell us what you think in the comments below.