Dolph Lundgren, 65, Marries A 27-Year-Old Emma Krokdal In Greece While Battling Cancer
Celebrities News●0 min read●
Dolph Lundgren is 65 and married. 
The 'Expendables' actor tied the knot with 27-year-old Emma Krokdal, his personal trained in Greece, on the 13th of July in the middle of his ongoing Cancer battle.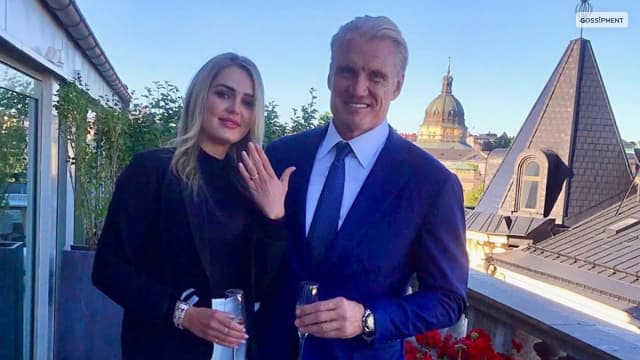 The newly married couple gave a joint statement to People where they mentioned, "We chose to celebrate our love by getting married at our villa in Mykonos with family and a few close friends. With both Covid and a long road of challenging medical treatments, we've had to push our marriage plans many times. We felt it was finally the right time to celebrate love, life, and happiness— in the land of the Gods."
The pair first got engaged in June 2020. 
The news of the wedding came days after Krokdal posted pictures from the couple's Mykonos getaway made up of breathtaking views, sunbathing on yachts, and luxurious dinners.
Ahead of the wedding, the 'Rocky IV' actor also gave hints about the impending ceremony when he posted a picture of himself cuddling with his fiancée in the pool. The caption of the photo? 'Tomorrow is the day. Mykonos ❤️'
In 2020 when Lundgren and Krokdal got engaged, the actor announced the engagement with a picture of his newly engaged fiancée showing off her ring, captioning the snap, 'Something very special happened here in Sweden.'
The couple started dating in 2015 after the 'Creed II' actor was diagnosed with Cancer.
The 'Aquaman' actor kept the news about his diagnosis well under the wraps until May when he first started talking about his health during a normal episode of 'In Depth With Graham Bensinger.'
Lundgren, at the time, said, "They found a tumor in my kidney, and they took it out … but then they did a biopsy, and it was cancerous. Then I did scans every six months; then you do it every year, then it was fine for about five years."
The Cancer obviously came back with six freaking tumors in his kidneys and liver in 2020. At the time, Krokdal had talked about her then-partner's illness.
She mentioned, "His mouth got really sore, his hands got sore, his feet, and he couldn't eat anything warm or anything cold, anything spicy. So that was a struggle to get food down so he kept losing weight."
Lundgren had almost given up hope on his life after being informed that he had only some years to live the rest of his life. But after seeking a second opinion from Dr. Alexandra Drakaki, the actor started recovering since the doctor was able to target a mutation in the tumors and eventually treat the Cancer. Lundgren said, "Within three months, things were shrinking by 20 to 30 percent."
The actor also mentioned that while his tumors have now shrunk by 90%, he feels 'lucky' to be living a life. 
Recommended Reading:
👉 It Seems Rocky Ahead For Prince Harry And Meghan Markle: Report
👉 Barbara Palvin And Dylan Sprouse Tied The Knot After Five Long Years Of Courtship
👉 Kylie Jenner Claims That She Has Stopped Heavily Editing Her Photos On Instagram!