Who Is The Real Donovan Lamb? Why Was Vivian Kent Fired From Bloomberg?
Celebrities●0 min read●
Have you watched Netflix's, Inventing Anna? Part of all the fun was watching Anna Sorokin, A.K.A. Anna Delvey, the German heiress played by Julia Garner, commit crimes. Perhaps the most entertaining part of watching this show was obsessively researching the details – which ones were factual and which were fictional?
For instance, was Donovan Lamb a real person? Or why was Vivian Kent fired from Bloomberg in the first place?
While details about Anna's storyline only make the real story wilder – from her ties to Billy McFarland, the scammer of Fyre Festival, to her Sorokin-inspired wardrobe, everything's factual! Another storyline that falls under the spotlight in this context is the reporter, Vivian Kent, who was writing for Manhattan magazine about the popular convicted fraudster.
Stay tuned while we shed light on these details!
Shedding Light On The Real Donovan: Who Was The Real Donovan Lamb?
Welcome to Gossipment's Donovan Lamb story! Today, let's find out who was the real Donovan Lamb and what his story was. You will be amazed to find out just how real this keeps getting. So without wasting time, here we go!
So, Who Is Donovan Lamb?
When Inventing Anna dropped on Netflix, the real story came under the spotlight, and perhaps one of the most asked questions in this context was, 'who is Donovan Lamb?' The question originates from Vivian following Anna's story after a blast from her past gets in her way. Some years before any of the events of the show took place. Vivian interviewed a young Donovan Lamb. Subsequently, Lamb was featured on a show digging into different types of dubious journalism – it was called American Investigated.
We later find out that when Vivian interviewed Lamb, he was only 17 and a high school student. Reportedly, the 17-year-old has earned more than 70 million dollars from stocks. To everyone's ultimate shock, Lamb later revealed how the story was nothing more than a farce, while Vivian encouraged Lamb to exaggerate his story, making it some sort of breakthrough news.
Naturally, this was a scandal in the media industry – in fact, Vivian's reputation suffered in the eyes of the entire journalist fraternity. Moreover, the aftershocks of this incident kept haunting Vivian for the rest of her life.
That was Donovan Lamb's story – but who was Donovan Lamb in real life? Scroll down to find out!
The Real Story Behind Donovan Lamb
The Donovan Lamb Inventing Anna story that dropped on Netflix is unsurprisingly based on events from real life. The real incident actually happened in 2014 with a journalist called Jessica Pressler. Jessica, at the time, was looking after the 'annual series release of a long list of causes to love New York' to be published in the New York Magazine.
In December of the same year, Jessica released an interesting profile – a senior from Stuyvesant High School. The senior in question was Mohammed Islam, well-known as the real-life Lamb. Just like Lamb, Mohammed also claimed that he earned a lucrative fortune via stock trading. Apparently, he started trading with penny sticks when he was just nine.
Mohammed Islam grew up to become a successful modern finance scholar, amassing a total fortune of 72 million dollars. But he was just another smart con artist very similar to Anna Sorokin, and Jessica Pressler has no idea! During interviews, Islam spent more than 400 dollars on dinner.
Mohammed Islam literally threw Jessica Pressler under a big New York bus only a day after she got published. He sat down with the Observer and told them how his narrative is nothing more than a fabrication of sorts – it never really happened. In fact, it was discovered that Islam is just another student who takes help from his parents and goes to high school.
But Islam did know how trading works, thanks to high school and its investment club. Islam also showed fact-checkers his false financial statements and other fabricated details. And that's the Donovan Lamb real story you have been looking up all this while!
Read more: Best Sexy Korean Movies Of All Time To Turn On The Heat
Finding The Real Donovan Lamb: Why Was Vivian Kent Fired From Bloomberg?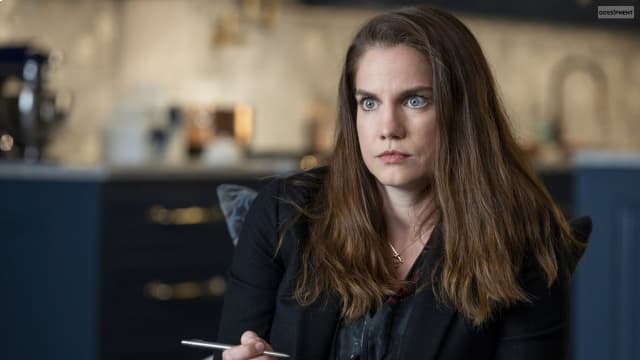 So now you know who is the real Donovan Lamb! But that still doesn't explain why Vivian Kent was fired from Bloomberg. No, you don't have to google the Donovan Lamb Vivian Kent connect. Instead, stay tuned to find out about Vivian Kent and why she was fired from Bloomberg.
Introducing Vivian Kent: The Journalist Who Wrote Until Her Water Broke!
Inventing Anna proudly states at the beginning of each episode,
"This whole story is completely true. Except for all the parts that are totally made up."
Yes, so the series was certainly inspired by real-life events, although dramatized and exaggerated when it aired on Netflix. Remember, it's not a documentary.
Now, coming back to the story! Throughout the show, we watched a pregnant Vivian obsessively pursuing Anna. She was writing the story until her water literally broke. Played by Anna Chlumsky, Kent's obsession for Anna's story appears fascinating to outsiders. But it's not just Anna's story – it's Kent's career.
We find out that Kent had published a story featuring Donovan Lamb. The story did go viral but for all the wrong seasons. Anna's story is actually Ken't the only chance to save her journalist career. Turn out, Kent's character is inspired by the real-life journalist Jessica Pressler who had originally written about Sorokin.
But that's not the only similarity Kent has with Pressler – the Donovan connect also mimics the real life of Pressler!
But Why Was Vivian Kent Fired From Bloomberg?
Presenting the Vivian Kent Donovan Lamb connect – scroll down to read about this fascinating arc, the one nobody expected!
Jessica was doing a story on 'Reasons To Love New York' for New York Magazine, and this particular article featured the Donovan arc of Inventing Anna, only in real life, it was Mohammed Islam making millions in spite of being a senior at high school during that time. Just 24 hours after the story was published, Islam retracted his narrative, confessing to the media that Pressler forced him into lying.
Immediately, Pressler was dubbed as a 'bad journalist,' and she lost her job offer from Bloomberg. In fact, her former friend and editor even blamed her for making fact-checking errors. The aftermath of this article is retold in Inventing Anna, shedding light on why Vivian Kent was fired from her new job at Bloomberg!
And It's A Wrap!
So now you know who is the real Donovan Lamb, and why was Vivian Kent fired from Bloomberg? Yes, it was all true, and most of us perhaps wouldn't even have noticed these striking similarities between Pressler and Kent.
But then, as ardent fans of pop culture, we just couldn't help ourselves. Tell us what are your thoughts on Inventing Anna – will there be a season two? Share your thoughts and theories on this riveting show in the comments below.
Read Also:
◼ Isla Atkinson: The Woman Who Made The Iconic Mr. Beans Retire(?)
◼ Who Was Colestein Veglin And What Was His Real Age When He Died?
◼ Who is Denise Lombardo?: Jordan Belfort Ex-Wife Biography, Age and Net worth