Ezra Miller FINALLY Makes A Public Appearance At The Premiere Of The Flash
Celebrities News●0 min read●
Only days before the theaters welcomed The Flash, Ezra Miller, the embattled star, finally managed to enter the speed force. After the actor's involvement in a series of very disturbing arrests and allegations that placed the movie's immediate prospects in danger, Miller was absent from the superhero film's press outings.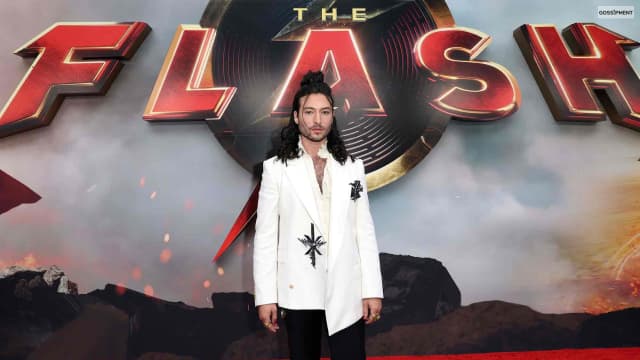 After stopping for photos in a solid suit jacket white decorated with lightning bots made of metal, Miller went on address the DC film's creative team for supporting them publicly in the middle of controversy. He spoke about Andy Muschietti, the film's director, in footage published by Deadline. 
"I love you, Maestro. I think you are amazing, and I think your work is monumental."
And…What Next?
Miller then expressed gratitude to Deborah Snyder and Zack Snyder for casting them initially in 2014. Miller further thanked David Zaslav, the CEO of Warner Bros. Discovery as well as Michael De Luca and Pamela Abdy from Warner Bros.
Miller concluded by thanking DC Studios' heads, Peter Safran and James Gunn, the dynamic duo, "for your grace and discernment and care in the context of my life and in bringing this moment actually to fruition."
No interviews took place at the premiere of The Flash. The event also saw the film's co-star Ben Affleck, his wife Jennifer Lopez, and Jessica Chastain, who worked with Muschietti on 'It Chapter Two.'
Miller did express his gratitude onstage at The Flash premiere for,
"the thousands of artists and workers who made this movie, everybody who supported us in our lives and in the world. And everybody who supported me in my life and in the world along this decade-long trying and very beautiful peregrination."
But, What Really Happened To Miller: A Recap!
Miller had previously apologized for their misbehavior last August and mentioned how they were getting treated for "complex mental health issues."
At a statement of the time, Miller had added,
"I want to apologize to everyone that I have alarmed and upset with my past behavior. I am committed to doing the necessary work to get back to a healthy, safe, and productive stage in my life."
In the month of January, the actor ended up pleading guilty to a certain misdemeanor in a Vermont court – he was guilty of 'unlawful trespassing.' A Vermont Superior Court representative even confirmed that the involved pirates agreed to actually drop the burglary charge.
This charge would have included not just a standard larceny charge but also a prison sentence spanning 25 years. Instead, Miller was asked to pay a fine of 500 USD, obtain one year in probation, and must follow multiple rules, including mental health treatment.
A representative of Miller previously mentioned to Vanity Fair, "The notion that The Flash was at risk was a wake-up call." The Flash starring Miller in double roles, will hit theaters on the 16th of June. 
Read Next:
👉 Breaking Bad Actor And Comedian Mike Batayeh, Shockingly Dies In Sleep At 52
👉 The Star Of 'Everwood' And 'Prince of the City' Actor Treat Williams Dies In Motorcycle Accident At 71