Joe Manganiello Spotted Getting Giddy With LA Actress 13 Years Younger Amid Vergara Divorce
Celebrities News●0 min read●
Joe Manganiello was seen leaving a sweaty gym session with a much younger actress Caitlin O'Connor. They are spotted less than two months after Joe filed for divorce from wife, Sofia Vergara.
Joe and Caitlin have a 13-year age gap. They looked giddy on Wednesday as they left Gold's Gym in Venice, California. They walked together in the photos that have surfaced.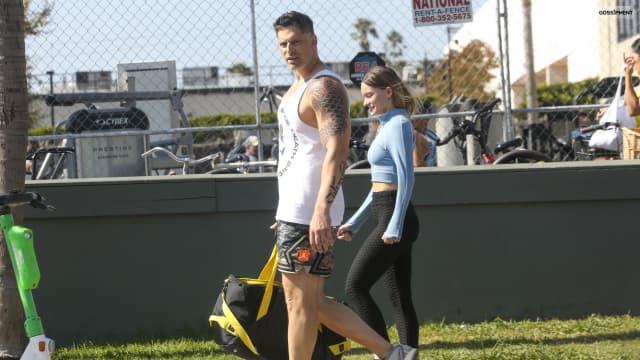 The Magic Mike actor hopped into the driver's seat of his Cadillac SUV while the Winning Time actress sat herself cozily in the passenger's seat.
Joe, 46, put his new tattoo in full display on his enormous bicep while sporting a white tank top, patterned shorts, and sneakers.
He was seen carrying a huge duffel bag in one hand while flexing his arm muscles as he left the gym and made his way to his car.
Caitlin, according to her Instagram bio, is based in Los Angeles. The 33-year-old looked fit and fabulous in black textured leggings and a cropped blue quarter zip top that accentuated her toned tummy.
The entertainment reporter had brief roles in TV shows such as Two and a Half Men and Days of Our Lives. She was born in LA and raised in Uniontown, Pennsylvania. According to her IMDb bio, she went to UCLA as an English major with a theater minor.
Their reps did not respond to the requests for comment.
Joe and Sofia separated after 7 years of marriage. "We have made the difficult decision to divorce. As two people that love and care for one another very much, we politely ask for respect of our privacy at this time as we navigate this new phase of our lives."
Sources revealed that the Modern Family hitmaker and Joe had "been growing apart for a while now. [They] and are taking some distance from each other to contemplate their future."
Two days later, Joe filed for divorce, and Sofia asked that their prenup be enforced.
TRENDING STORIES:
■ Amber Heard Used To Dress Up Like Mercy, From Overwatch, Confirms Elon Musk
■ Channing Tatum And Zoe Kravitz Came Together For The Fundraiser Event: "Gorgeous Night"