Who Is Julia Fox's Ex, Peter Artemiev? All That You Need To Know!
Celebrities●0 min read●
Italian writer and actress Julia Fox's name appear on newspaper headlines not just for her accolades. The successful fashion moghul has never been afraid of the spotlight, even when it came to her relationships and personal life. Well-known for films like Day By Day, Uncut Gems, and Nobody Move, Fox is not just famous for her films.
It was January 2020 when Fox was first spotted with rapper Kanye West on a cozy date. Since West, at the time, was undergoing a turbulent divorce from Kim K, the date sparked plenty of public interest. It was obvious that the relationship was not serious, but Fox certainly did seem excited. It came as a shock when Fox announced her split from West just a month later.
Between West and Fox, West was not the only divorcee. Fox was married to Peter Artemiev at a point, and today, we will find out about Mr. Artemiev – stay tuned to read!
Who Is Peter Artemiev? All That You Need To Know!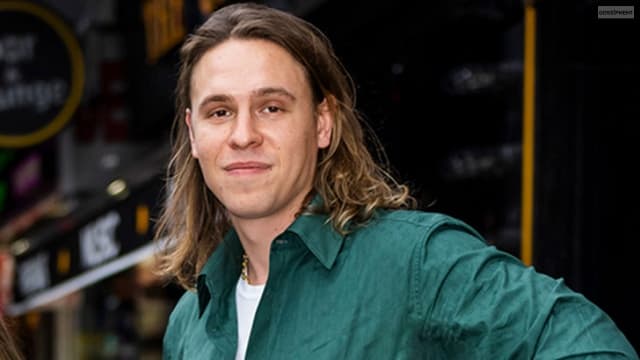 If you are typing 'who is Julia Fox husband' on Google, then stop – instead, scroll down and find out all that you need to know about Peter Artemiev. Recently, Fox apologized to Artemiev – she had taken to social media in the past and ended up slamming her ex-husband via a series of posts.
Naturally, the apology was sudden and surprised several followers of Julia Fox, especially the ones who had seen the earlier posts. And that's not all! The estranged duo actually reunited and celebrated their child's birthday together – from lovers to estranged parents and now co-parenting?
So, without wasting any time, let's shed some light on Artemiev – keep reading to find out!
Who Exactly Is Peter Artemiev?
So little is known about this mystery man that even if you try to google stuff like 'Peter Artemiev pilot,' you will find absolutely nothing. Then, who is Peter Artemiev? Let's find out!
Artemiev is professionally a private pilot and lives in Brooklyn. After dating Fox for only a month, Artemiev got married to the 32-year-old actor and model in November 2018. Two years later, the couple split up. Peter mostly keeps his personal life out of the limelight, but of course, his split was Fox was everywhere.
Just before the Christmas holidays, Julia Fox went online and posted on her Instagram story a picture of her ex-husband sporting devil horns. And the caption read, "Have you seen this deadbeat dad?" Naturally, when asked later, Artemiev denied the claims made by Fox and instead called her claims "utterly false statements."
Coming back to the wedding, Nicki Swift had actually reported that Artemiev and Fox had somewhat of a shotgun wedding that was very unconventional, especially after their brief courtship.
Julia Fox even spoke about how her wedding was like a city-girl-dream and how she had wanted to get married to a Russian man always. Fox also shared how she was single for four whole years before Artemiev came into the picture. She even added,
"At the Little White Wedding Chapel [in Las Vegas], nobody knew; I was dressed like a cowgirl. And [Artemiev] wore cowboy boots, we looked so f***ing cute. We were so in love. I literally dreamed him up and manifested him, like as a city girl from Manhattan, I always wanted to date a Russian guy from Coney Island."
Peter Artemiev: Early Life
While doing our best to find out about the early life of Peter Artemiev, we couldn't find anything on the pilot's birthday – a thorough search on 'Artemiev birthday' proved zero results. But we can speculate that Artemiev was born in Brighton Beach, located in Brooklyn. We suspect his birth year is 1987 or anything close to that.
Born and brought up in a completely American family, it is interesting to note that Peter's family has Italian roots, thereby making his ethnicity Italian-American. It can be assumed that Peter grew up in a healthy and happy environment with his family. Since his childhood, Peter has wanted to become a pilot.
After attending a local school to completing his basic studies, he enrolled in University, which was followed by pilot training. After working and training hard under the guidance and aid of different professional pilots, Artemiev became a private pilot.
The Break Up With Julia Fox
Don't waste your time googling 'Peter Artemiev net worth' or similar stuff – instead, stay tuned with us to find out what you have been looking for!
Since Artemiev and Fox got married at the legendary Little White Wedding Chapel in Vegas, and that too on New Year's, the split was eventual – Vegas weddings are so cursed! Rumors about Artemiev's split from Fox first surfaced when Fox deleted all their pictures from her socials in 2020.
In the month of May 2020, Fox spoke to GQ about her split from Peter. She said,
"We're friendly, but we're not together. He's still my friend. I'm sure he would like it to be more, but it's not happening."
Since then, Fox has simply moved on – she was even dating Kanye West for a month. Right after Fox began dating West, they did a photoshoot and released their photos online, announcing their new relationship.
In spite of Fox's complaints about her ex-husband, she spoke about her excitement about dating West to PageSix. She said,
"I don't know where things are headed,"
she said.
"But if this is any indication of the future, I'm loving the ride."
But, by Valentine's Day last year, news broke out that West and Fox had ended their brief romance. Fox's rep even spoke about her split from West to InTouch. They mentioned,
"Julia and Kanye remain good friends and collaborators, but they are no longer together."
On the 5th of February, Fox uploaded a nice birthday post on her Instagram – she was embracing West in the photo.
Peter Artemiev And Julia Fox Have A Child: What?
This is where things get really interesting! If you look for information related to 'Julia Fox baby daddy drama' online, then you will definitely have some tea to spice things up.
While Peter Artemiev and Julia Fox's divorce proceedings were ongoing in 2021, the couple conceived a baby during that time. Once their son was born, Fox actually accused Artemiev of impregnating her intentionally because of his ulterior motives. She took to Instagram and mentioned,
"He (Artemiev) 1000 percent intentionally got me pregnant, It's a blessing. I'm happy about it. I would not change it."
The whole Julia Fox ex-husband story gets interesting at this juncture. Although Fox was subtle about expressing her suspicions, she did not regret her child. Farther, she might have given a friendly statement to GQ about her breakup, but it's probably that she did reserve some bad feelings for Peter. And this became obvious when she slammed Peter and called him an absentee father. She said,
"[…] Please REMIND him that he has a child to take care of! Oh, and if you chill w him knowing d*** well he is a deadbeat alcoholic drug addict dad, you are not my friend, and I will call you out too!!!"
And It's A Wrap On Peter Artemiev!
So now you know all that you need to know about Peter – you no longer have to google 'Peter Artemiev movies and TV shows or even 'Julia Fox husband' and face disappointment.
But we do want to know what your thoughts are on Peter Artemiev and his relationship with Julia Fox. And while you are sharing your thoughts, if you have some tea that we missed out on, feel free to share those tales with us in the comments below.
Read Also:
◼ Isla Atkinson: The Woman Who Made The Iconic Mr. Beans Retire(?)
◼ Who Was Colestein Veglin And What Was His Real Age When He Died?
◼ Who Is Nadine Caridi? Jordan Belfort Ex-Wife Biography, Age And Net worth