Sam Asghari Spotted Without Wedding Ring In 1st Photos Since Britney Spears Split
Celebrities News●0 min read●
Sam Asghari was spotted ditching his wedding ring in the first photos since he broke up with Britney Spears. In these new photos via TMZ, Sam was seen wearing a pair of brown joggers and a fitted black tank top as he took out his Doberman Porsha on a walk, which was a gift from Britney in 2021 before the estranged lovers got married.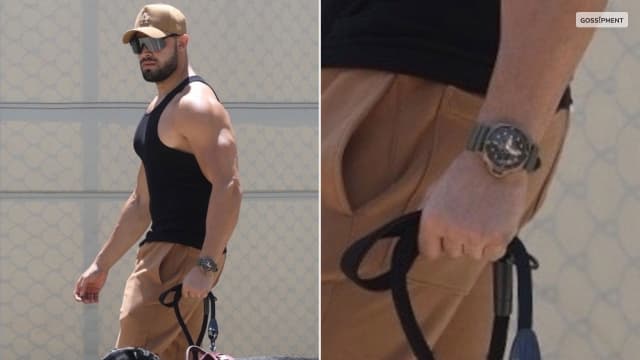 As Asghari handled Porsha's leash, his ring finger was missing his wedding ring notably. Sam had finished his post-breakup look with a pair of nice white sneakers and accessorized with reflective sunglasses, a heavy watch, and a brown hat. Porsha looked regal and pretty in a burgundy harness.
The photos were published five days after the initial reports of Britney and Sam splitting post an argument over some alleged cheating. As per reports from TMZ, Britney was seen coming out of her SoCal estate, driving in LA without her wedding ring. Plus, on 16th August, TMZ reported that Sam had filed for divorce already, citing 'irreconcilable differences as his primary reason for the breakup.
The breakup escalated quickly, with a source close to the pair claiming that the fitness trainer and model were threatening to upload 'embarrassing information' about Spears if she did not renegotiate their prenup. However, reportedly, Sam denied this allegation via Brandon Cohen, his representative.
As for the couple's dog, Sam had once informed HollywoodLife in December 2021, only three months after his engagement with Britney, about why he had received Porsha as a little pup, "The puppy that we just recently got, I got it as a surprise for my fiancée. I figured we need a bigger dog that is a protector, and I love [Britney], and Porscha is the best. She is so beautiful."
As his very first photos started emerging, Sam took to the gram himself and started poking fun at his whole high-profile situation. The Slumber Party actor took to Instagram stories with multiple snapshots in various wigs asking fans to help him figure out a disguise for protection from the paps.
Trending on Gossipment:
■ It's Baby No 2 For Rihanna and A$AP Rocky!!
■ Ariana Grande Walks Out On Scooter Braun As Her Manager: Reports
■ Charity Lawson Joins Dancing With The Stars Season 32 After Appearing On The Bachelorette