Taylor Swift Eases Into WAG Role With Brittany Mahomes Downing Shots At Chiefs Afterparty: Reports
Celebrities News●0 min read●
Taylor Swift has reportedly hit it off with her fellow Kansas City Chiefs WAG at Travis Kelce's afterparty.
The Anti-Hero singer and Brittany Mahomes, the wife of Chief's quarterback Patrick Mahomes were seen spending a lot of time talking and breaking the ice while at the bash.
TMZ and multiple other outlets have reported that, at one point, they actually downed shots together. Things went really well between the two, and they went so far as to express that "they wanted to stay in touch and have plans to meet up again in the near future."
Swift is reportedly planning to attend the Chief's game again next Sunday, scheduled to be held against the New York Jets at MetLife Stadium in New Jersey.
The Grammy winner did not, however, restrict herself to Brittany in her bid to get to know new people at the party. Swift, 33, looked absolutely smitten with her arm wrapped around Kelce, also 33, while chatting with some of the roommates at the rooftop bar.
An eyewitness told "Entertainment Tonight" that the duo had been "very affectionate" throughout their time together.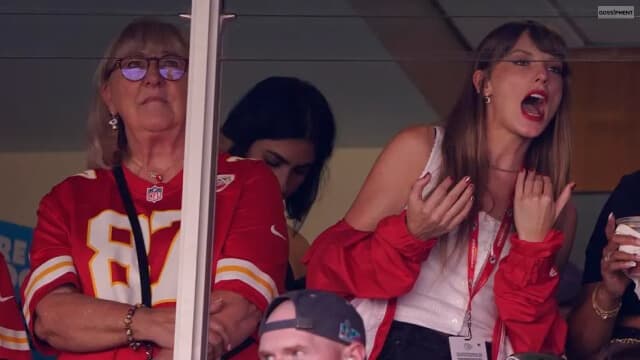 An insider revealed to Page Six that the "Cats" actress and the Chief's tight end stayed close all night and reportedly "left together in an entourage of three vehicles at 1:10 a.m."
Swift had linked up with Kelce's friends and family at his 1 million dollar mansion in Kansas City earlier in the day. She later made her way to the game held at Arrowhead Stadium.
Swift was seated with the NFL star's mom, Donna. They were in a private suite where teh Chiefs beat the Chicago Bears.
Kelce and Swift walked out of the stadium together before hopping into his convertible and driving away to the afterparty. The sports star was in an on-and-off relationship with model Kayla Nicole before calling it off for real in May 2022.
Kelce himself used the term "ballsy" to describe the hit songstress for attending his game despite knowing that everyone would be looking at her.
MORE FOR YOU:
👉 Bachelorette Alum Josh Seiter Insists He 'Didn't Fake' his death amid Instagram 'hack' speculation
👉 Selena Gomez Deletes 'Only Murders' Instagram Post After Being Accused of Breaking SAG-AFTRA Strike Rules