The Summer I Turned Pretty Season 2 Ending Explained: What Just Happened?
Web Series●0 min read●
After eight episodes full of indecision, heartbreaks, and so many Taylor Swift tracks, the season finale of The Summer I Turned Pretty dropped finally on Prime – and whoa, we weren't ready for this gut-wrenching emotional roller coaster!
Belly finally makes a call about which Fisher brother her heart really wants to be while the trio is stuck together in a motel. Laurel, on the other hand, finally decides to escape from her comfort zone and attends a writer's get-together while Steven and Taylor give dating a shot after solving some initial conflict.
But wait, wait, what about the ending? Let's talk about that…
The Summer I Turned Pretty Season 2: Ending Explained
The Summer I Turned Pretty Season 2 has poked only one question from the very first episode: who does Belly end up with? It's a debate as old as time itself – Ben versus Paxton, Stefan versus Damon, Lucas versus Nathan! It's our favorite cis-trope – two hot boys, preferably brothers fighting over one damsel-in-distress!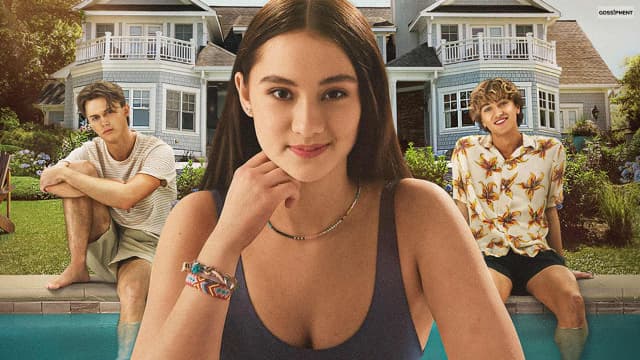 And this show is no different – so naturally, we all fell for it! But interestingly, it was refreshingly different, and we will tell you why. But before that, here's what happened in the final episode of season 2!
What Happens Between Conrad And Belly?
If you have read The Summer I Turned Pretty book, then you gotta stay shut and not give us spoilers in the comments section because we are Team Conrad through and through. And Team Conrad is crying now!
The Beginning:
The eighth episode, appropriately called 'Love Triangle,' begins with Conrad coming across Belly and Jeremiah kissing near his car right after his finals are over. Initially, Conrad runs from the whole situation, and on Jeremiah's request, Belly chases Conrad.
A hurt Conrad accuses Belly of kissing his brother only to get his attention. When Belly doesn't agree, Conrad tells her he doesn't want her anyway and that she should just be with his brother. Later when the Fisher brothers and Belly are driving home, Conrad keeps teasing the pair. Conrad even asks Belly which Fisher brother is the better kisser.
The Middle:
After the highway is shut due to a flood warning, the trio takes shelter in a motel. When Belly goes to take a bath, Jeremiah asks Conrad to be honest with Belly about his feelings for her. Jeremiah wanted Belly to know that Conrad still cared for her – since he believed that there was no way Belly would choose him if Conrad still cared.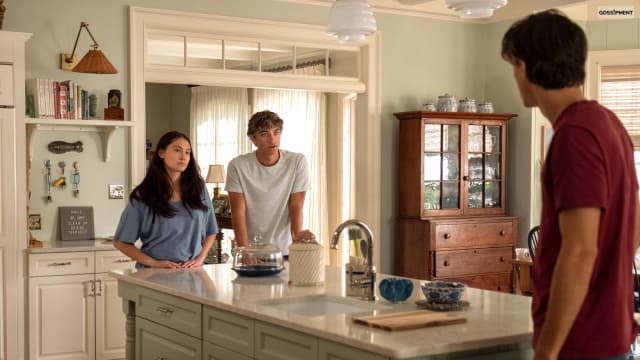 That night, when Jeremiah falls asleep, Conrad comes clean to Belly but asks her not to respond. Belly falls asleep thinking about one of the last times she met Susannah – Susannah had confided in Belly how much her Connie needs Belly. Belly just had to be patient with him.
The End:
But the next morning, before Belly can tell Conrad about Jeremiah, Conrad tells her they will always be friends (we are crying already!). Belly is the narrator here – her parting words?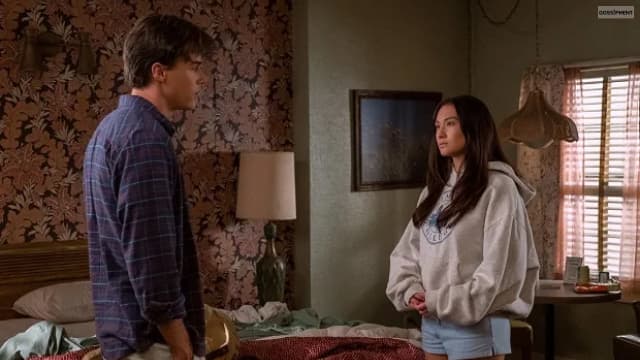 "I release you, Conrad Fisher. I evict you from my heart."
Conrad gives back the infinity necklace to Belly and breaks our hearts once more. As Conrad heads out to catch the bus to Cousins Beach after making plans to meet everyone on the 4th of July, Swift's Exile starts playing, and we are crying now.
Once outside, Conrad is emotional and is kinda crying – can someone please check in on poor Connie?
What Happens Between Jeremiah And Belly?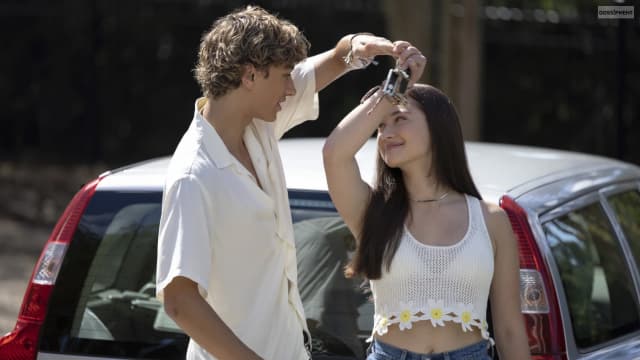 The Summer I Turned Pretty episodes for this season made one thing obvious – this season was for Team Jeremiah. And Team Jeremiah is obviously super happy now – and if not Connie, we are happy that our dear Belly is happy with one of the Fisher boys…for now!
The Beginning:
Once Conrad leaves on seeing Belly and Jeremiah kissing against his car, Jeremiah requests Belly to check in on Conrad – you already know how that goes! When Belly returns after her 'conversation' with Conrad, she tells Jeremiah that she isn't sure whether or not Conrad is coming back, but Jeremiah insists on waiting for his brother.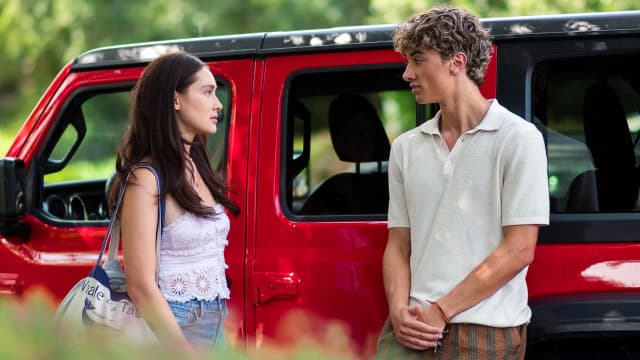 While the pair is waiting for Conrad to come back, Belly tries to find out whether or not Jeremiah thinks that she kissed him just to get back at Conrad. But before Jeremiah can answer, Conrad does show up, and the trip embarks on a very awkward journey home.
The Middle:
Once the trio takes shelter in a motel, Conrad goes to make some calls, AKA avoiding more awkwardness, Jeremiah and Belly talk. Jeremiah tries to tell Belly that Conrad still has feelings for her which she simply dismisses without a thought. The pair also confess how the kiss was real for both of them.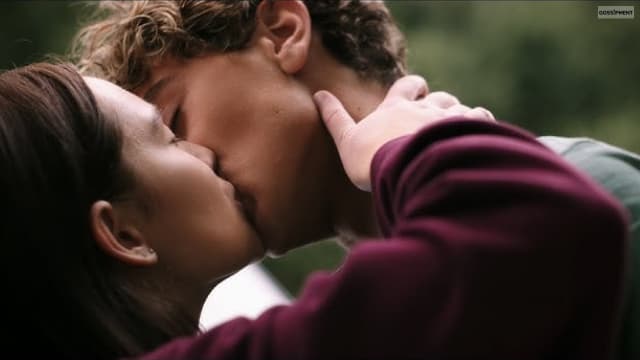 Jeremiah, however, can't help but express doubts over whether they can actually be together. His only fear? When Conrad does express his love for Belly, she will choose Connie without a single thought – remember how Season 1 ended?
Even though Belly says it will not change anything between them, Jeremiah requests her to talk to Conrad. After talking to Conrad, if Belly still feels the same for Jeremiah, then they can be together.
The End:
When Belly wakes up the next morning, she goes to the bathroom only to come out and find Jeremiah missing. Belly is immediately worried that Jeremiah has abandoned her and heads to the parking lot to find out that he has just gone to get her breakfast.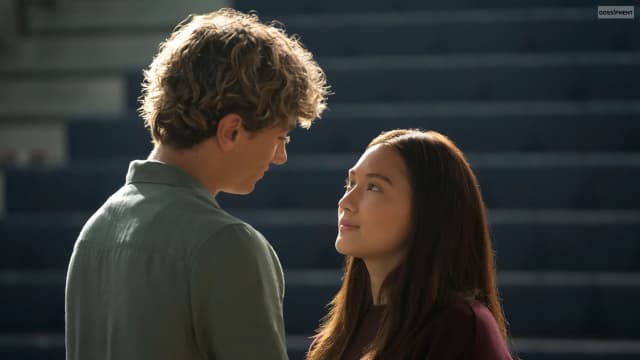 Okay, wait, how long does it take Belly to brush her teeth?
Belly then tells Jeremiah that he is right about how Conrad feels for her. Before Belly can finish, Jeremiah tells her that it will not be like the previous summer – this time, he won't ghost Belly if she chooses to be with Conrad. However, Belly just stops Jeremiah and kisses him – it was Jeremiah who she wanted to be with! (*internally crying for Conrad*)
Coming Back To What We Were Saying…
After watching The Summer I Turned Pretty season 2 trailer, we were sure Belly and Conrad is the end game (we are still pretty sure that's how the story will end), but choosing Jeremiah was a shocker, not that we are complaining – he is very hot, FYI!
Remember Vampire Diaries? Poor little Elena ultimately dumps Stefan's sorry ass and gets together with Damon? Isn't that the whole point of the triangle trope? The leading lady always, always, always inevitably goes for the hot red flag when there is a perfectly hot green flag waiting with open arms.
Earlier this year, Never Have I Ever actually managed to break the stereotype, and Devi actually chooses Ben – a complete green flag! So naturally, when Belly goes for Jeremiah, it is actually a very healthy decision to make. After all, Jere has always been there, unlike Conrad, who appears only to disappear.
Heathcliffs have always been much sought-after characters in popular culture – women somehow believe they can change a man. Ladies, it is FINALLY good to see you have accepted that we cannot change a man – it's always safe bait to pick someone who is a green flag because modern iterations of Heathcliff-like characters are anything but healthy.
Don't Forget Staylor – Yeah, What About Steven And Taylor?
Of course, The Summer I Turned Pretty cast doesn't just include Lola Tung, Christopher Briney, and Gavin Casalegno. How can we forget about the new romance between Taylor, AKA Rain Spencer, and Steven, AKA Sean Kaufman? Also, have you heard about Getting Even With Steven yet?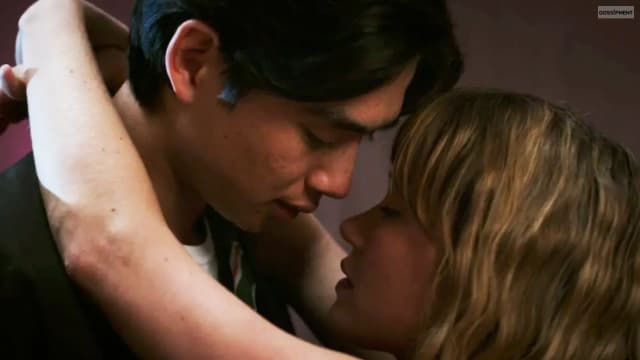 Here's What Happens Between Steven And Taylor:
Steven shows up with flowers at this restaurant where Taylor and some of her girlfriends are hanging out. While Taylor acts very standoffish around Steven, her friends tell him about the diss album Milo made about him.
When Taylor's friends leave, the couple decides to get some ice cream and end up arguing over who Belly should end up with – here, art and real life actually come together to seal the deal – a premonition we didn't understand.
While Taylor is Team Jeremiah, Steven is Team Conrad. Although Steven is fine with the small argument, Taylor gets annoyed and tells him that they LITERALLY do not have to fight all the time.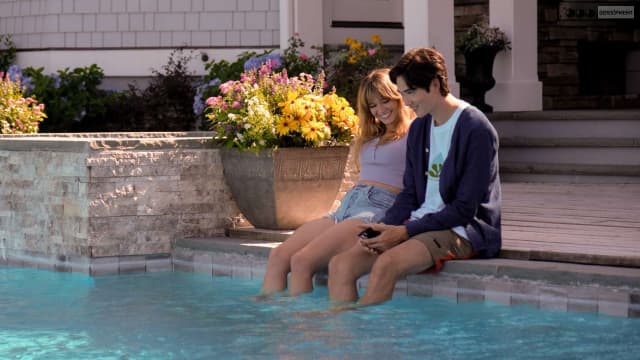 The next day, Taylor ghosts Steven and bails on their plans. Steven finally listens to Milo's diss album. But Steven is still determined to be with Taylor. The next morning, he drives to her house before she leaves for volleyball camp.
Taylor finally admits that she was scared to share how much she feels for Steven – after Steven reassures her that he won't be breaking her heart and she has all the liberty to break his heart, the pair reconcile.
Steven goes to drop Taylor to the volleyball camp – when Jeremiah asks if Steven is also going to stay back to watch Taylor play, they just say they are not "that kind of a couple" – um, a little weird if you ask us.
Oh, And Laurel?
Laurel (played by Jackie Chung) does not get a whole lot of screen time in the last episode, but what we do get to see is a pretty cool storyline. In the season finale, on Cleveland's encouragement, she goes to a writer's meet-up in Brooklyn.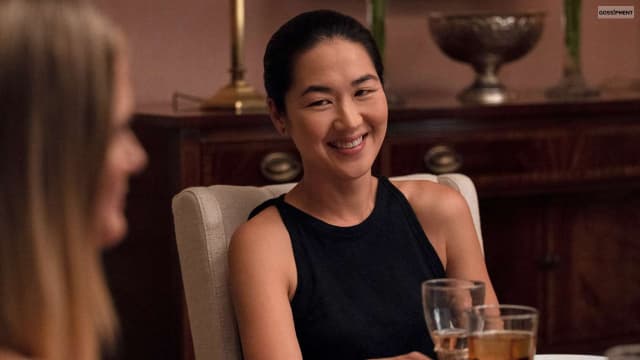 Initially, Laurel is worried that she won't be as good as the others, but then she bonds with one of the women who eventually encourages her to share a snippet from her recently published memoir.
The Summer I Turned Pretty Creator And Stars Discuss Belly's Choice Of Brothers In Season 2 Finale:
Creator/author Jenny Han mentioned that ending season 2 with Belly going back to volleyball was important since the story is a little more than making a romantic choice between the two Fisher brothers (Riggghttttt…)
Hans told EW, "I really loved seeing her being able to come out of her grief and smile again and have lightness and joy again. Her relationship with Jeremiah has always brought her a lot of happiness — it's almost like permission to be happy again at the end of the season. She's been punishing herself for some time now, and she's forgiving herself in many ways. It's a step towards living again because she's been under a cloud for a long time. She's getting some glimmers of that carefree Belly back because there was a fear that they'd all kind of lost that piece of themselves when they lost Susannah. It's good to see her able to find that hope again."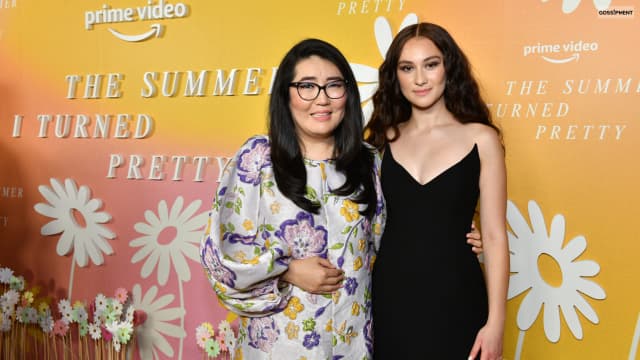 Lola Tung also expressed her happiness at the end of Season 2. She told EW, "I was very happy with how the season ended. We see it in episode 6 at the party when Belly is drunk on the beach, and she's talking to Conrad, she tells him how much she would've fought for that relationship, how much it meant to her, and he just doesn't seem to be able to articulate to her that same sense of urgency and that same idea that he would've fought for them. She wants someone who's going to fight for her, and at that moment, Jeremiah is the right choice and the choice that will allow her to be happy without the drama of it."
Tung also added, "Not only is it about her and Jeremiah ending the season together but also about her moving forward out of this grief and out of this confusion with everything, so it's a really hopeful ending and a really lovely thing to see."
Wrapping Up: How Does The Finale Set Up For Season 3?
So when is season 3 of The Summer I Turned Pretty coming out? Well, it is safe to say that it will take at least an entire year for Belly and the boys to go back to Cousins and pick up where season 2 ended. The season 2 final episode leads us very nicely into the third season (which was confirmed only recently, BTW), with Belly and Jeremiah getting together.
Season 3 will definitely focus on Belly's relationship with Jeremiah. However, now that Conrad has come clean about his feelings for Belly, we are hoping those feelings are not just going to disappear randomly – season 3 can definitely have our favorite love triangle come back on screen!
Hopefully, The Summer I Turned Pretty Season 3 will give us more deets on Steven and Taylor's relationship and also, ideally, show Laurel spreading her creative wings once she is done grieving Susannah's tragic, untimely death.
The two seasons of The Summer I Turned Pretty is streaming on Prime Video right now – and if that's not enough, it's a sign to buy the books already!
Have you read these?
👉 Are Carrie And Aidan End Game In And Just Like That?
👉 And Just Like That Gets One Thing Right: The Shifting Dynamics Of Female Friendships