Are Carrie And Aidan End Game In And Just Like That?
Web Series●0 min read●
And Just Like That Season 2 dropped on our screens in late June. The question that has been on everyone's minds for a long time now is…will Carrie and Aidan FINALLY end up together? Versus are we getting ready to witness another unexpected death or something? Showrunner Michael Patrick King did tell New York Times, "I didn't bring Aidan back to fail."
It is a tentative yes, and after watching the eighth episode, A Hundred Years Ago, last week, we can only say – the heart wants what it wants. And our hearts are all in sync with Aidan and Carrie after all this time.
Today, we have only one question on the table: are Carrie and Adian end game in And Just Like That, or is it too soon to get attached to Aidan again? Stay tuned as we find out the best probable answer!
Calling All Aidan Fans To Attention…
Before And Just Like That Season 2 episodes started dropping on Max, fans of SATC already knew that Aidan Shaw was coming back. FYI, both Sarah Jessica Parker and John Corbett confirmed that Aidan and Carrie have a very different dynamic now.
While SJP said, "It's not fevered; it's not demanding. There's so much heat between them, but there isn't that urgency from him," John explained, "He's really, really listening to her now."
The eighth episode only confirms what SJP and Corbett already mentioned about the Carrie-Aidan dynamic. This is where things get interesting, increasingly so – what changed between the two? Stay tuned to find out.
Bringing Back John Corbett As Aidan Shaw On SATC Reboot, And Just Like That:
John Corbett spoke about how he was a little jealous when Season 1 was being shot, and photos from the shoot would pop up on his feed. He said, "Especially when some of the photos would pop up of them shooting in the streets. I would get a little jealous that I wasn't asked to come back and do a cameo."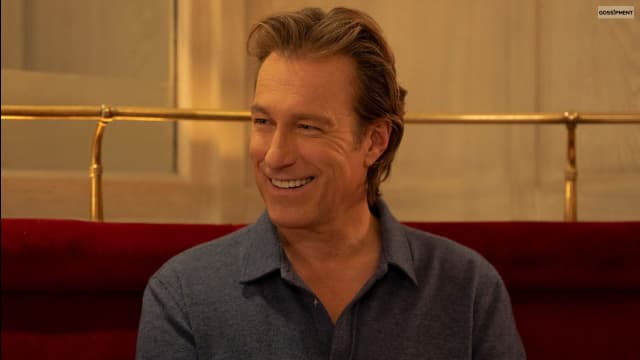 Plus, Corbett is truly interested in playing the 'classic American dreamboat' as New York Times pointed out at this phase of his successful career. In this context, Corbett said, "It's given me such a wonderful life and asked so very little in exchange for that big sack of money that I got. I've gotten everything out of this life that I wanted."
Carrie And Aidan's Hard Launch On Instagram:
Posted on the official Instagram account of And Just Like That, Max, and SJP, the pictures suggested that a Carrie-Aidan reunion was right at the heart of season 2. When season 1 ended, Carrie was still grieving Big's death and did some half-hearted, flimsy dating with a widow.
Aidan's return can only do one thing – our favorite hopeless romantic from New York is ready to dive back into the dating pool headfirst. Last August, the successful SATC franchise confirmed that Aidan was coming back, and fans had only one question – are they getting back together?
Whether you are Team Aidan or Team Big, this reunion simply feels like a much-needed welcome return to the glory days of SATC. The lovebirds have crossed paths more than once after ending things in season 4 of the original show. This was coming, if you ask us – the Universe wanted it all along!
The Carrie And Aidan Relationship Timeline: Looking back
Right pair, wrong timing? That's Carrie and Aidan summed up – this is precisely why Aidan Shaw and Carrie Bradshaw were not endgame in Sex And The City. But things are starting to look up for the fan-favorite great love in Carrie's life.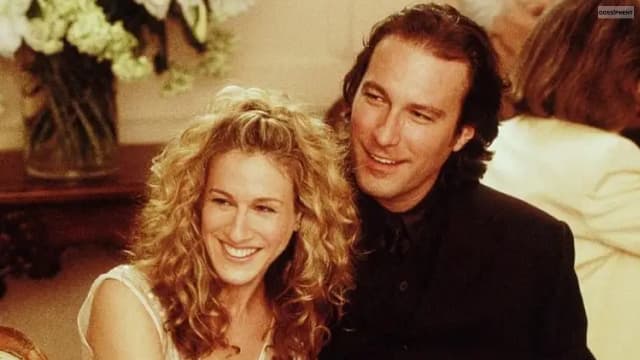 Aidan Shaw (played by John Corbett) first appeared in our lives when Carrie started dating Aidan in Sex and the City Season 3 after her BIG breakup with Mr.Big (played by Chris Noth). The romance takes a sad turn when Carrie ends up cheating on Aidan with Big, who was married at the time.
Six months and a whole season later, Aidan and Carrie are reunited in SATC Season 4. This time it's the couple's unresolved issues of the past that prevents them from chasing a happily ever after together.
Towards the end of the original show, Carrie meets Aidan one last time, but this time, Aidan is the father of three children – fans come to know that Aidan has gotten married and settled down with a family, like he always intended to do, while Carrie is late for yet another date.
Skip to the second movie in the Sex and the City franchise – Aidan and Carrie cross paths once again, goes on a dinner date and ends up sharing a small kiss, only this time, they are both married, far away from their spouses in Abu Dhabi for different reasons.
What Went Down Before John Corbett Came Back As Aidan Shaw On AJLT:
In April 2021, Corbett hinted at his appearance on AJLT to Page Six, "I'm going to do the show. I think I might be in quite a few [episodes]. I like all those people; they've been very nice to me."
Fans were surprised not to see Aidan on AJLT Season 1, and Michael Patrick King denied rumors of an Aidan comeback.
In February 2022, King told Deadline,
"No, there's nothing old news about Sarah Jessica Parker and John Corbett as actors and beings and interests. The fact of the matter is, we never said anything about Aidan, just like we never said Steve and Carrie [Parker] are getting together. We always try to be very restrained and look at the reality of what people are experiencing, and it has nothing to do with Aidan coming or not coming. It really just felt like this was a lot for Carrie. This season was a lot. We wanted to get her through this and into the light—the last episode is called, Seeing the Light. We wanted to get her out. [Aidan's return] is a big storyline that everybody at home wrote that we had never intended."
Parker also spoke about Corbett's comments on making a potential comeback. Parker spoke about Aidan's return on AJLT Season 1 on Watch What Happens Live With Andy Cohen, "He actually reached out very kindly because he's nothing if not a gentleman and apologized for doing that as a joke. And then I was like, 'No, no, no, I mean, it's a free country, first of all, and second of all, I thought it was kind of delightful and fun.'"
While filming for Season 2 almost a year later, SJP confirmed Corbett's return with photos from the shoot. She captioned the photos with 'Shh. Don't tell anyone.'
Carrie And Aidan Relationship Timeline: The First Attempt
Stanford (Willie Garson) shows a newspaper advertisement to Carrie with a photo of a furniture designer. Carrie and Stanford later hit the event – post a sweet meet-cute between the two, the pair start stepping out on dates and grow close.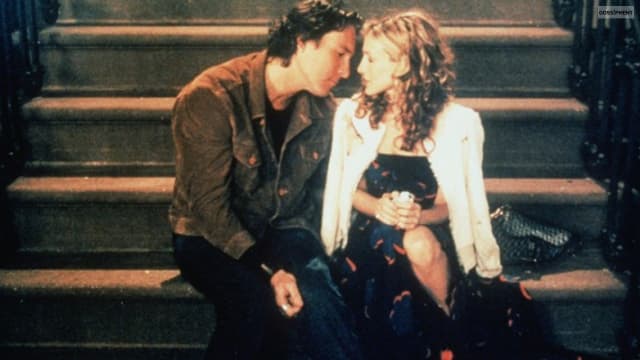 Carrie's past relationship baggage (yes, we mean BIG) creates many obstacles in her brand-new healthy relationship.
When all seems well in Carrie-Aidan's land, Big makes a comeback, but this time, he has a wife. After multiple run-ins with Big, Carrie gets involved in an affair with a married man. At the end of SATC season 3, Carrie comes clean to Aidan, and it effectively ends the relationship.
Carrie And Aidan Relationship Timeline: Getting Back Together
A season later, Miranda (played by Cynthia Nixon) and Carrie run into Steven (played by David Eigenberg) and Aidan, only to find that their former boyfriends are not just friends but also have moved on.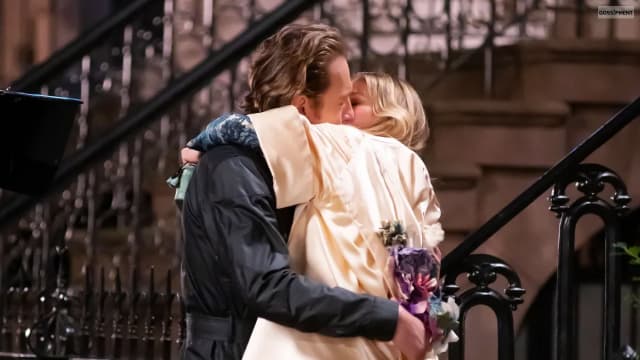 The two friends even open a bar together. When Carrie visits Aidan's bar on opening night, the two realize that they still have feelings for each other. So, the couple gets back together and gives their doomed relationship another go! This time the two do not just move in together, but Aidan also proposes to Carrie, and a confused Carrie accepts the proposal.
Now this is a major milestone in Carrie's life, and all the rush, the potential plans for the wedding, and all the extra attention starts making Carrie feel suffocation. Her anxiety then makes her realize that she is definitely not ready for this big step.
Aidan only suggests that the couple should just elope since he just wants to be married to Carrie. This makes Carrie realize that her then-fiancé is worried that she isn't really faithful, which in turn ends up causing Carrie and Aidan to break up for the second time.
Carrie And Aidan Relationship Timeline: Two Brief Yet Wildly Different Reunions
Aidan makes a brief appearance in SATC Season 6 when Carrie runs into him trying to avoid Jack Berger (played by Ron Livingston), her brand new love interest. Carrie finds out that Aidan is married to Kathy and has three sons, Wyatt, Homer, and Tate.
SATC ended with Carrie reuniting with her first big love, Mr.Big, A.K.A John Preston. When the films dropped, fans wanted to see Aidan again, and the showrunners didn't disappoint fans.
In the second SATC movie that premiered over a decade ago in 2010, Carrie and Aidan reconnect after crossing paths in Abu Dhabi. The former pair step out on a dinner date which leads to a very unexpected kiss (not very unexpected for us, mere fans!). Of course, Carrie immediately confides in Big about the unforeseen incident.
Carrie and Big are able to work this issue out and move on with their lives until And Just Like That happens, and Carrie has to deal with Big dying!
And Just Like That Aidan Was Back:
Corbett and Parker were spotted shooting multiple scenes as Aidan and Carrie for AJLT Season 2. In January 2023, the pair seemed to be busy acting out several flirtatious moments between the former lovers.
Aidan made his grand debut on AJLT on the 7th episode, February 14th, which aired on the 27th of July, 2023. In the episode, it is Valentine's Day, and after Carrie had randomly reached out to Aidan a few days back, it was only natural that Aidan would invite Carrie to dinner. Knowing very well it is Valentine's Day, Carrie says yes, and just like that, Aidan comes back!
Aidan feels conflicted when he sees that Carrie is still residing in her classic NYC brownstone from the original show. He even says, "When you said come back to your place, I thought you had a different place. At the restaurant, I thought, 'How great. This feels really great.' We're back where we started. But this is where we ended with that f—king wall I couldn't break through and those floors — remember the floors I redid? It's all bad. It's all in there."
But once Carrie says that she really wants this new romance to work, Aidan shares his similar thoughts on trying again before the duo kisses passionately after a long, long time. The eighth episode only shows that Aidan and Carrie's relationship is getting stronger and, might we add, healthier than it used to be.
Our fingers crossed – with two episodes left to go, we can only hope that Carrie and Aidan end up together, this time at the very least.
A Perfect Life For Carrie And Aidan(?): Recapping AJLT Episode 8
For Aidan and Carrie, life is perfect. The eighth episode, A Hundred Years Ago, from AJLT Season 2, starts with the couple enjoying life inside their hotel room since Aidan still won't visit Carrie in her old apartment, the scene where the couple had ended things bitterly in SATC.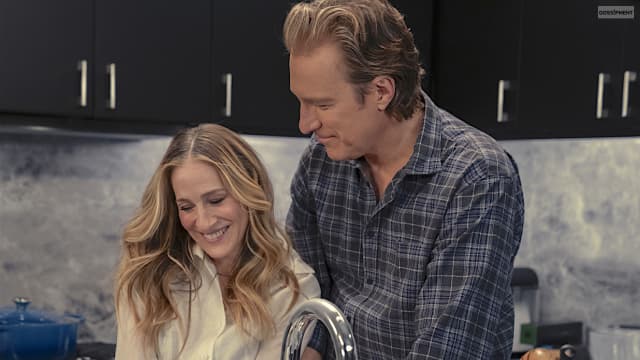 This is a glaring sign that there are so many unresolved issues between the two, waiting to blow right up in their faces. However, everything else about Carrie and Aidan this time is different – everything points to not just personal growth but also long-term happiness.
For instance, when Aidan invites Carrie to Norfolk, Virginia, to meet his children and their chickens, the old Carrie would bolt immediately at the mere inconvenience of changing scenery or even at the idea of expressing anything remotely similar to commitment.
But Carrie is not just older, she is also wiser – she knows the only way ahead is to do things differently. Surprisingly, she agrees, leading to some more good times for the couple.
The Part That Changed It All:
During brunch, Carrie confides in Seema, Miranda, and Charlotte about the farmhouse made up of red bricks where Aidan probably lives and shows them the photos of the house she dug from the internet – it could possibly be the location where Howard's End was shot according to Carrie.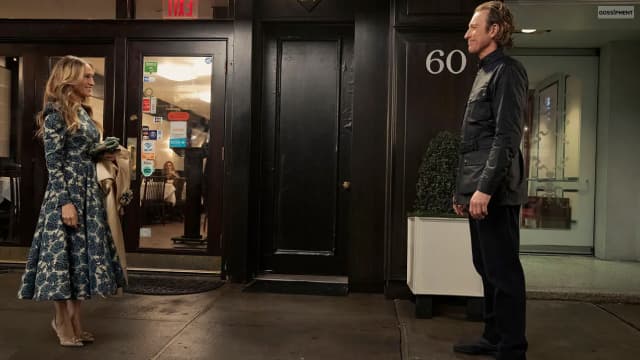 While Charlotte is happy to see Carrie move on and Seema frowns silently, Miranda says what we all have been thinking – isn't this too fast?
But for Carrie, it is not. Everything with Aidan feels so familiar and yet so different. She mentions that she is having the best orgasms in her whole life, even better than the first time they were together.
And then she tells Miranda something we have all been thinking, tweeting, and writing for years now: maybe her whole relationship with Big was really just that – a BIG mistake. The episode ended with Carrie closing the door of her apartment and heading to Aidan's farm for real.
Fingers Crossed For Carrie And Aidan:
TBH, we have always supported Big, not because we had anything against Aidan. But simply because the plot made it very obvious that Big was the one with Aidan coming at a close second. But Big was exactly like Carrie – they did deserve each other, didn't they? Aidan was just too healthy or too nice for Carrie – and the relationship was always doomed from the beginning.
But it's been more than 25 years since then, and both Carrie as well as Aidan are single. And things seem so different that we have only one expectation from the couple – a happily ever after! Let's see what the showrunners have in mind for Carrie and Aidan this time around.
Recommended Reading:
🖤 What is Dalton Gomez famous for? Meet Ariana Grande's Husband
🖤 And Just Like That And The Che Diaz Problem: Are They A Little Creepy?
🖤 Christopher Nolan's Oppenheimer: a Departure From Neutrality Into the Straight – Forward Political Arena