And Just Like That And The Che Diaz Problem: Are They A Little Creepy?
Web Series●0 min read●
Nobody in a Harvard hoodie has ever really looked uncomfortable, unlike the no-nonsense Miranda Hobbes, a corporate lawyer, as portrayed by Cynthia Nixon, in an episode of SATC's first season from the 90s.
In the 'Bay of Married Pigs' episode, Miranda agrees to a blind date set up at her firm's annual softball game. But when her blind date turns out to be a nice woman called Syd (played by Joanna Adler), flushed with embarrassment, Miranda realizes her colleagues are confused about her sexuality only because she has been single for a long time.
She goes on to admonish her colleague for making assumptions about her love life and sexuality, saying, "Yeah, I'm not gay. Christ, when did being single translate into being gay?"
The episode first aired in 1998 and focused on the apparent 'cold war' between singles and married people – a pretty simmering conflict where married pairs cast single women either as objects of pity or enemies.
For Miranda, her colleagues respected her so much more as a lesbian with a date than a single woman, even prompting her to have a fake arrangement with Syd. Miranda finally comes out clean after getting invited to dinner with Syd at her boss' house. However, she does kiss Syd in the elevator and says, "Yup, definitely straight." – a conclusion that even Syd affirms.
It's been 25 years since we all saw that episode for the first time – and in the SATC reboot, And Just Like That, Miranda is definitely not straight. Enter Che Diaz – yep, they are a problem, and today, we are going to address the Che Diaz problem in And Just Like That! Stay tuned to find out more.
The Che Diaz Problem: Is Che Diaz Creepy?
Here are some details about Che Diaz, played by Sara Ramirez, before we begin!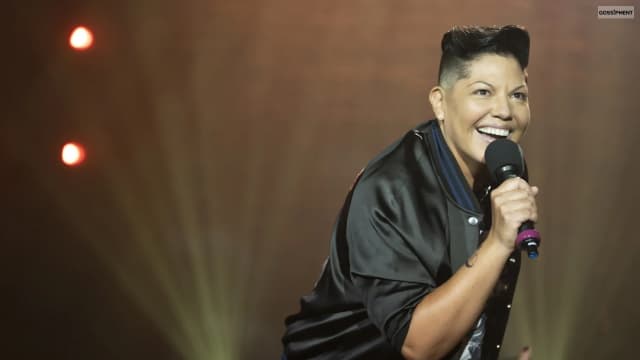 ■ Che is sexually adventurous. Che is non-binary. Che is a stand-up comedian.
■ Che worked with Carrie on a podcast about sex questions.
■ Che's role in the show expanded once Miranda fell for them.
■ And Just Like That, season 1 ended with Miranda leaving Steve and following Che to LA to pursue a relationship with them.
And Just Like That Season 2 began with a heavy focus on the new relationship between Miranda and Che. We are honestly down to three original SATC characters, and Carrie is not going to have many crazy sex story arcs considering she is mourning the death of Big, and SJP probably does not want to in general.
With Samantha (played by Kim Cattrall) gone, this leaves only Charlotte, Miranda, and the new characters to fill in for the sexual plot lines that fans of the original SATC want to see. (And if you have been seeing Charlotte, she is kinda doing her part!)
Then, What Is The Problem?
The problem is nobody really likes Che Diaz. If you type the name 'Che Diaz' on Google, the very first prompt that will pop up is "Why don't people like Che on And Just Like That?" While Rolling Stone dismissed Che's character as a 'troll' on the show's audience, Sara Ramirez's profiles on the internet refer to her character as the 'most hated character' on the show.
But what is the PROBLEM?
Che has committed multiple sins,
● their brash personality.
● their insensitive dismissal of dear Miranda's valid feelings in the first season before the two get involved in a serious relationship.
● their opposition and bewilderment to Miranda going back to New York because her son needed her in the second season.
It is also vital to note that for a specific section of individuals, alt-right propaganda and hetero normative ideals increase their distaste for the character, who is presented genuinely as a woke boogeyman.
The Infamous Almost Threesome:
The alarm bells went off in the fourth episode of season 2, called 'Alive,' when Che and their former husband, Lyle, discuss their marriage. Lyle says that once Che had convinced him to be polyamorous rather than calling their throuple experience something that they both decided on together.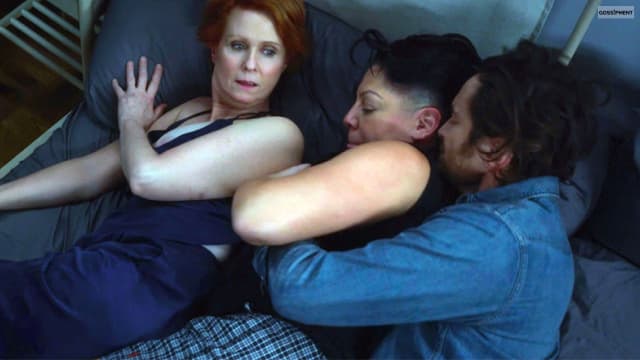 Later, the opportunity presented itself that night or was carefully planned or constructed by Che themselves for the three to be a part of a threesome.
When an awkward Miranda stops suddenly and talks about how she might not be ready for a threesome, Che dismisses the matter as 'not hot.' Shutting down anyone when they are talking about their discomfort during a sexual encounter is something only predators and creeps do.
Nobody who is concerned about the welfare of their partner, consensual sex being the bare minimum, wants them to actually be really quiet about their feelings or about participating silently in acts they are not comfortable with.
Before, we had only disliked how self-centered and unsympathetic Che was in their romantic relationship with Miranda. Now, we hated the character.
Miranda's Sad Phase:
Che and Miranda's relationship only emphasized one thing – what a terrible phase the character was undergoing. Sure, she quit her corporate job and went back to school. Sure, she decides to end her relationship with Steve and gets involved in an affair with a non binary person. But these are not inherently sad stuff.
Corporate law kinda sucks. And Steve cheated on Miranda all those years ago. Miranda's attempts to let go of stuff that has not really been working out and try new things in her fifties is both adventurous and admirable.
But the more time Miranda spends with Che, the more she comes off as someone love-bombed by a narcissist or a tragic pick-me. And that is definitely not the Miranda we actually know, love, or even want to see.
This is the same Miranda who was seen berating Carrie in the final season of SATC for being so desperate and naive as to leave NYC for a new man – which is kinda exactly what Miranda does all these years later for Che.
So, yes, we are ready to buy that Miranda was in her legendary cautionary tale phase, but if that is not the direction writers are aiming for, then we cannot accept that Che is a healthy partner (come on, remember, Smith Jerrod?) for Miranda!
The threesome story arc has absolutely pushed Che's character past redeemability, and for the whole Che-Miranda storyline to make sense, there has to be some sort of a reckoning coming.
Cynthia Nixon's Queer Roots, Miranda's Awakening, And The Che Diaz Problem:
It's been 25 years since the Bay of Married Pigs aired, and undoubtedly, it is an ironic favorite of SATC's mostly begrudging queer fans. Also, the episode has tremendous potential for memes. Most of it comes from the whole trajectory of Cynthia Nixon's romance in real life.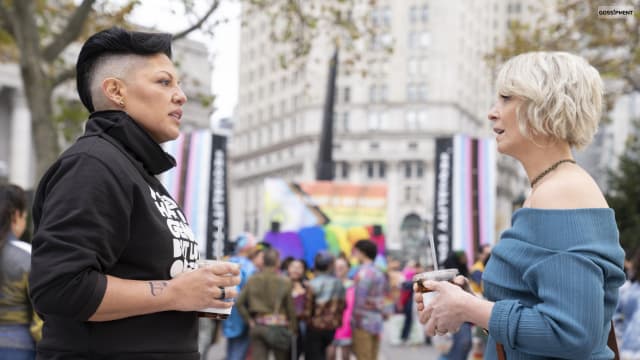 In 2003, the Sex and the City actor split from her male partner and started dating Christine Marinoni, an education activist, once the show ended. Since then, Nixon has come out as bisexual before getting married to Marinoni and identifying as queer publicly.
Even before the news of the show's reboot was announced in 2021, several queer fans had actually hoped that the show might just revisit the queer possibility first raised during Miranda's softball game.
In many circles, Miranda was an aspirational character – the levelheaded woman who asked Carrie what's the point of moving to Paris for a man, leaving her whole life in New York behind. There's no point denying that the show's treatment of queer culture on most occasions tended to veer into a territory known for being comically offensive.
And Just Like That Miranda Is Queer…Enter Che Diaz!
In And Just Like That Season 1, the plot follows three characters from the original SATC series, except now the ladies are in their fabulous 50s. This time, Miranda did get a queer story arc, but the experience was bittersweet for most fans – and that too mostly because of her present love interest, Che Diaz, who primarily kicks off her sexual awakening.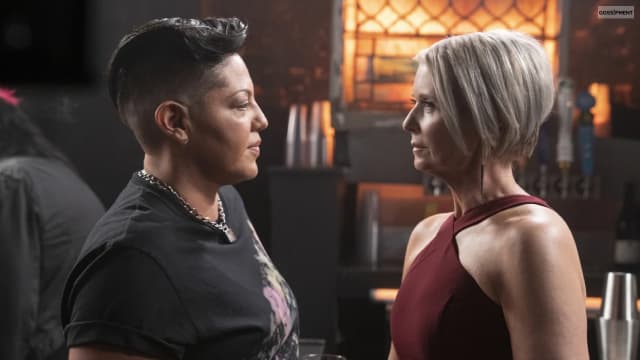 Miranda is still married to Steve (played by David Eigenberg) when she falls really hard for Xhe Diaz (played by Sara Ramírez), a stand-up comedian! Non binary Chea is a pansexual, polyamorous agent of chaos who also co-hosts a podcast called 'X, Y, and Me' that covers "gender roles, sexual roles, and cinnamon rolls."
The idea of a high-achieving, repressed lawyer experiencing a midlife crisis, A.K.A. queer awakening, is not really unfathomable – nor is the distinctive possibility that she might get attracted to a much younger, pot-consuming provocateur. But Che did really try!
In the very first scene, Che actually welcomes their 2 cisgender co-hosts on the podcast by simply calling Carrie (Sarah Jessica Parker) 'Mis Cis.'
Che then goes on to introduce themselves as "a queer, non binary, Mexican Irish diva representing everyone else outside these two boring genders" before hitting a random button on their soundboard to punctuate the zinger with a very loud 'Woke moment!' – There, that's Che for you!
Che Diaz And All That Hate:
Recently on a podcast called 'Into It' by Sam Sanders, Samantha Irby, one of the And Just Like That writers, compared the character of Che to "the kind of person who turns a coffee order into a lesson in colonialism … Che is like that turned up to a 12."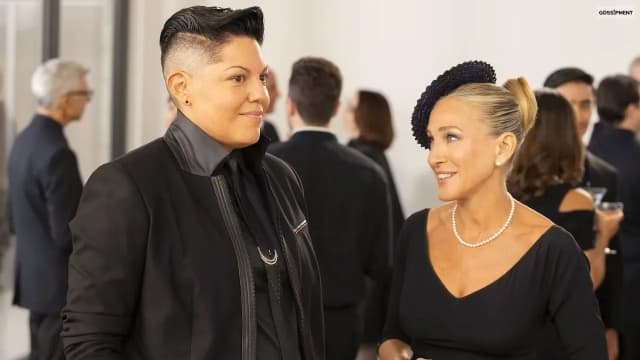 Jenny Schecter (from the show called T L Word) was perhaps the last insufferable ingenue on television every queer person was pretty much annoyed with until Che Diaz appeared on our television screens. Countless strangers on the internet have made their dislike for Che very obvious with multiple TikToks, Instagram posts, and tweets.
One passionate review on The Daily Beast even mentioned, "How unfortunate that a character like this is so heinous. No one wants to single out the only new LGBTQ+ character on a series as the worst. Yet Che Diaz leaves us no choice."
The first season of the reboot ended with an uncharacteristic Miranda leaving a vital career opportunity, her friends, Steve, and her children behind for Che. Miranda follows Che to LA so that Che can shoot a semi-autobiographical coming-of-age for the pilot much like Samantha did towards the end of SATC for Smith Jerrod.
While Che was a topic of easy parody in Season 1, And Just Like That, Season 2 makes it clear that the show's writers were not aimlessly pulling from a trash can filled with social-justice lingo on the internet.
Starting with the 5th episode, which aired on the 13th of July, the show starts adding depth to the character of Che – a really welcome shift that actually creates some room for Mirana. Miranda can finally address some existential questions that she has been facing while imagining a near future with Che as their live-in cheerleader.
Criticism And Che Diaz:
The fifth episode, called Trick or Treat, was co-written by Lucas and Irby Froehlich. In this episode, Che comes across feedback from a New York-based focus group on their pilot's test screening.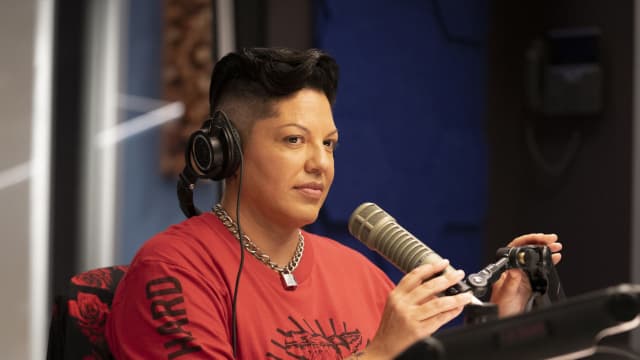 One member of this group calls Che's storyline in the pilot "a phony, sanitized, performative, cheesy-ass, dad-joke, bullshit version of what the non binary experience is." She also added that "it sucked."
Che plays Che Pasa, a young person of color who is also queer. The harsh criticism brings a devastated Che to tears immediately, shattering their beliefs in the purpose behind their life-defining work.
Later, when Miranda attempts to console Che by mentioning how the respondents do not really know what they are talking about, Che stops her and says, "A genderqueer person from Brooklyn tanked it! That call came from inside the house."
It seems like Che was replying to their audience in real life directly. Here, the exchange actually works because it enables us to see the real character's potential to finally emerge from the caricature.
Creating any type of art is an intense and vulnerable process, even more so when it's autobiographical. For trans and queer people, and more particularly, people of color, even getting a big Hollywood break often means accepting the industry's tedious preference for reducible stereotypes and structural barriers.
As a result, any harsh feedback can be demotivating, if not demoralizing, but then it is also expected. However, intra-community judgment hits harder, making the 'feedback' that Che receives devastating. A depressed Che shares with Miranda, "It took me 46 years to figure out who I am, and then a focus group one hour to fuckin' destroy me."
The Expectations From Che Diaz:
A major part of what has actually made Che so annoying to watch until now is the extent to which everyone, including the creators of the show, seemed absolutely unsure of who the character is and what their role is in this story.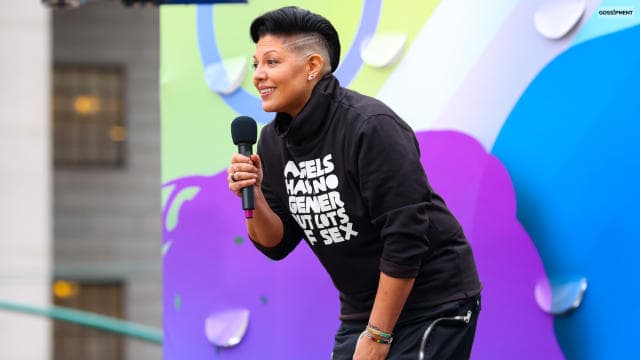 Season 1 focused on creating Che as a younger foil to Carrie Bradshaw – Bradshaw was simply the heterosexual prudish counterpart who was uncomfortable with sex questions and paint-by-numbers jokes on the podcast.
Charlotte (played by Kristin Davis) did not really engage with Che except to ask why Miranda would end her marriage with Steve overnight.
It seemed like Che primarily existed to show Miranda's unhappiness in her marriage with Steve and to teach the trio about their unconscious privilege. She acted as a corrective to the original SATC while the reboot tried to fit into the millennial-gen z culture!
That is a whole lot of pressure to put on a single character. Yes, other shows do have non binary characters with story arcs that are complex and rich, but in SATC's shadow, Che's character would always have struggled to be accepted as anything apart from the series' best approximation of non binary characters.
Remember how Carries had once called bisexuality "a layover on the way to Gaytown." So, it is not very difficult to see why the reboot has a character who is "an equal-opportunity confuser." As James Factora wrote in 2021 for Them, this is writing "catnip to … Gen Zers who identify outside of the binary."
And Just Like That…It's A Wrap!
Irby remarked on Into It that the pitched-up personality of Che Diaz was very much intentional. In the second season, Che's artifice starts crumbling. While it starts in the 5th episode, you can see it continue in the next two episodes as well.
Che's search for purpose brings them closer to Bradshaw and, without spoiling anything, actually pushes Miranda to FINALLY explore her queerness with curiosity and depth rather than with a selfish, awkward impulse.
By the second season's 7th episode, the show comes close to fulfilling the hopes of fans for this brand new canonically queer Miranda Hobbes, even if it does not quite reconcile her with the levelheaded Miranda who had recoiled from kissing a lesbian on the elevator.
Steve also obtains more space for his own complex reactions to Miranda's new journey and to the end of their beloved yet rocky union. Surprisingly, Che carves out a place in the troupe that actually feels so much more fleshed out as compared to Nya (played by Karen Pittman),
Miranda's graduate-school professor-turned-roommate, or even Seema (played by Sarita Choudhury), Carrie's real estate baddie friend.
Thank God that happened because we are not sure if we could have handled another 'Woke moment!' What do you guys think about the infamous Che Diaz? Feel free to let us know in the comments section.
You May Also Like:
■ Halston Sage: Biography, News, Movies and relationship
■ Amber Heard Net Worth: Biography, Movies, And Annual Income