And Just Like That Gets One Thing Right: The Shifting Dynamics Of Female Friendships
Web Series●0 min read●
Female friendships are really not the new sex or the new romance. Instead, female friendships are much like a cultural barometer for how united and secure humanity is. The less stability the world has, the more we feel like watching women supporting women on our screens.
With And Just Like That Season 2 returning on screen, we can guarantee you will be tuned to your screens watching Carrie, Miranda, and Charlotte navigate life in their 50s. Plus, didn't Harvard University point out how the friendships we make while growing up go on to shape our prosperity in the future?
Both Sex And the City as well as And Just Like That genuinely broke ground in terms of how such nuanced relationships were portrayed on screen.
Such was the cultural impact that their energetic, affluent foursome started being held as the benchmark against which multiple women compared their own groups, analyzing who was a Charlotte, who was a Carrie, and more.
Sure, there were elements in the original SATC that might not have aged that well. It is likely that these elements won't pass the Bechdel Test, a type of feminist assessment that deals with whether a work of art features two women at least who converse with each other about anything apart from a man.
Plus, the cultural, social, and political dynamics of the world at large have shifted how we as women relate to each other. Arguably, friendships among women are so much more intense in terms of their angst, passion, generosity, and ferocity, making our worlds feel more threatening, small, and cruel.
So, when the SATC reboot happened and And Just Like That dropped on television, we waited with bated breath. Amidst the plethora of problems associated with the show, it did get one thing right – yep, female friendships, though SATC had failed to get that right (sorry!).
Then, what changed? Stay tuned to find out more!
And Just Like That Gets One Thing Right: Female Friendships!
There are different ways in which And Just Like That differs from the Manolo-shod ancestor – it is refreshing to come across characters who are not white and hetero, but somehow it's just so clunky as if someone is desperately trying to make a plot the FIT!
However, there is one change that we support with our whole hearts. The show's absolute denial to worship of the sanctity of one central clique. Where SATC's focus was on a close-knit group of four women, AJLT follows a pretty expansive network of individuals interrelated to each other. It is much more realistic and healthy to see this depiction of female friendships.
And today, we are here to acknowledge the ONE thing that And Just Like That gets right – female friendships! Stay tuned for more!
Female Friendships In Sex And The City And Real-Life Replication:
Growing up, cliques became normal – a close-knit girl gang who stuck together through everyone, and forsaking everyone outside that group was the law of the land.
The female characters of Sex and the City were perhaps the ultimate iteration of this concept – four women who sip on cocktails, go on vacation, attend club openings, brunch, and talk about every single thing with each other – and LITERALLY with nobody else.
Yes, sometimes Stanford would join, but specifically only when it is not "just the girls this time" – Season 6 Carrie, we are looking right at you!
Season 1 still touched upon other acquaintances when SATC was still working on its format, but these acquaintances are hardly very memorable apart from serving some specific plot points and appearing in single episodes before vanishing entirely from the whole SATC universe. Those characters are not really important – it is Carrie and the girls through and through.
And that is precisely how we thought friendship, irrespective of gender, was supposed to be, or more importantly, look like – like a self-sustaining and self-contained group – because of how it was ALWAYS presented in popular culture.
It started with books like The Famous Five and The Secret Seven before moving to TV shows such as Big Bang Theory, Friends, and later Sex and the City.
So, it was a matter of time before we all did our best to replicate those fictional friendships – but it rarely even worked. Obsessing about the group dynamics instead of prioritizing one-on-one relationships made it even easier to develop relationship anxiety. Sometimes, though, it might also work out.
When things go well, TBH, it feels pretty great to be a part of a clique. There is a sense of belonging, a sense of safety. The problem starts when it does not last.
Replicating Fictional Friendships In Real Life: The Truth
Things obviously change. If you were part of a clique in high school, chances are once school ends, all of you will be scattered across the world, starting different lives in different places. While keeping in touch is not the issue, understand that it will never really be the same again.
It is like being part of a theater group. When production starts, everyone who is a part of the group works together, meets each other regularly in rehearsals, and quickly builds camaraderie.
It feels great to belong, to be a part of something, but once the show is over, everyone kinda dissociates and goes back to their daily lives. And just like that the sense of shared goals dissipates, leaving you feeling a little lost. To mitigate this feeling of lost, it is possible you will seek exclusivity from other groups.
This is where the problem starts. By attempting to hold everyone close to you, you might end up driving them away. If you have watched the television adaptation of Everything I Know About Love, the bestselling memoir of Dolly Alderton, then you know what we are talking about.
Here, Maggie desperately wants to preserve the dynamic of her friend group. When Maggie's friend, Birdy, falls for someone, Maggie welcomes it and the accompanying changes but with resentment and resistance, leaving Birdy with no option but to end things altogether. The show ends with a lone Maggie having successfully alienated herself from her whole group.
That is the issue with cliques, as we realized eventually. People and their relationships shift with time and change – a tight group does not leave space for that.
Friendships In SATC Vs Friendships In AJLT:
But, of course, it would be wrong not to acknowledge that SATC's portrayal of female friendships was groundbreaking. For the first time, people saw four women having an open discussion about EVERYTHING. Looking back, it's been over 25 years – and the show is as addictive as it was 25 years ago.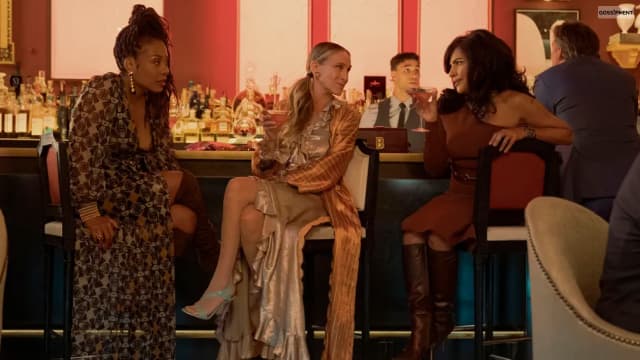 At the same time, we are glad that And Just Like That shows how friendships have evolved over time. Carrie, Charlotte, Miranda, Anthony, Nya, Lisa, Seema… all happen to know each other, but they are not one group. Plus, we rarely see everyone together – at the same time, at the same place.
AJLT also gives more significance and space to its peripheral characters as compared to SATC. Carrie's circle of friends happens to be so much wider now – for instance, Carrie is friends with her former podcast colleague, Jackie, with whom she discusses the vagaries of all cishet men, and Lisette, her jewelry designers neighbor with whom she says in bed munching on chocolates.
It is time we stopped being so worried about being part of a close group. Instead, we should focus on nurturing our relationships with different individuals on a one-on-one basis. Just like Carrie, you can also have friends from different walks of life and not be a part of a tight group.
Some of your friends will get to know each other over time, and some of your friends won't -it is not a tight gang but rather a loosely-woven network with lots of space for everyone to grow, breathe, or move in whatever direction life will take them. Trust us, it is so much better this way!
Female Friendships In And Just Like That: The Carrie-Seema Dynamic
And Just Like That gets one thing right – female friendships. Carrie's friendship with Seema is the perfect example of how friendships between single women can be transformative.
It is true that sometimes you just need one person to turn your whole life around, and you might think it is your significant other. That is fine – and it can be a romantic partner. But not always. While watching Carrie and Seema become friends on, And Just Like That made us think about our single friends, the ones who have always managed to transform the quality of life.
Carrie first meets Seema, her real estate agent, in the fourth episode of the show's first season to sell the apartment that she had shared with the late Mr.Big. The pair seemed to have hit it off immediately.
In the beginning, it seemed like Seema was a cone of Samantha, feeling up that empty space in Carrie's life. Plus, Seema is single, in her fab 50s, in search of romance, and is on dating apps. The similarity with Samantha is almost uncanny – don't forget Samantha was a powerful PR agent, and Seema rules the real estate market.
Both women are strong, independent, and SINGLE – but after the recent episodes aires, Seema's character trajectory has started differing from that of Samantha's, and that makes us glad. Because we have been digging the Seema-Carrie dynamic for some time now!
Why Does Everyone Need A Seema?
Showrunner Michael Patrick King spoke about Seema's character during the release of season 1, describing her as a "very important character because she's single. [She and Carrie] are both alone. So whether that translates into going out on other dates or whether it translates into them becoming a couple of comforts… There's an interesting life that can be there."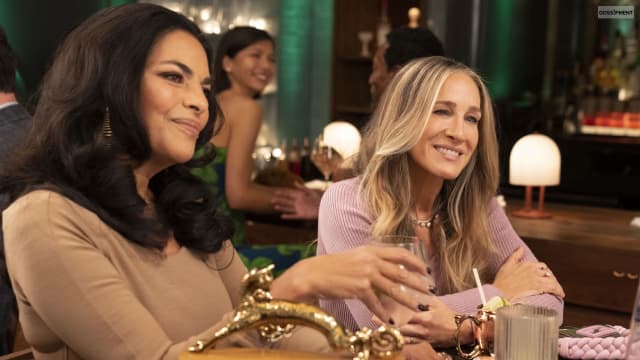 And just like that, Seema entered Carrie's life, driving the show's plot into a myriad of possibilities in all the episodes that follow. Seema is not really a supporting character but rather an empowering, inspirational force not just in Carrie's life but also in that of the audience.
Carrie was often criticized for being a bad friend in SATC (we still hadn't forgiven Carrie for sending Aidan to help Miranda when she got a strain on her neck and was lying naked in the bathroom). But Carrie, in her 50s, is so much more supportive of Seema.
For instance, when Carrie attends Seema's family Diwali party, she proves herself to be the friend you can gladly invite home to meet the family when you are in your 50s and effectively single.
Similarly, when the pair first hung out together, they just had a sushi takeaway at home, with Carrie narrating, "And just like that, we began our real friendship." in the background. It is such tender moments instead of sitting at a bar sipping on Cosmos that show the true meaning of friendships.
Showrunners have actually tried portraying what friendships IRL represents via the Carrie-Seema dynamic – it is close to an 'emotionship.' An emotionship is a bond that helps an individual regulate their emotions, even if entirely platonic.
Remember that Seema is not Carrie's drinking buddy – she is the emotional anchor that Carrie needs to move on from Big's untimely death.
The End Of The BFF Trope?
In the last few years, most of us have experienced changing friendship patterns and evolving dynamics. We have let go of so many social rituals and found happiness in new friends. Life has been difficult, and we have sought clarity over what we really want from our friends.
Personally, this means prioritizing quality over quantity. Going on a coffee date post work with a friend who always makes me laugh is so much better than conversing with ten people on a social media group where there is no room to breathe.
Perhaps, why And Just Like That is so addictive and appealing is simply because watching SATC feels like you are that FIFTH friend watching everything, but knowing deep down that there is no way these four women will ever make room for you. When the show ended, it is probably this reason that made us feel bereft.
Years later, it feels great to see those old friends on screen again, but this time the show does not force the audience to invest in those relationships as intensely as you did in the past. The world has changed, and even Carrie's PEREFCT social circle is dented. Sometimes, certain friendships end, and that is fine!
You May Also Like:
■ What is Dalton Gomez famous for? Meet Ariana Grande's Husband
■ And Just Like That And The Che Diaz Problem: Are They A Little Creepy?
■ Christopher Nolan's Oppenheimer: a Departure From Neutrality Into the Straight – Forward Political Arena