The Jonathan Bailey Partner Story: Inside The Secretive Love Life Of The 'Bridgerton' Star!
Celebrities●0 min read●
Bridgerton-fame Jonathan Bailey kept his whole sexuality well under wraps during the initial stages of his professional acting career. After starring in Netflix's most-watched TV show, Bailey rose to fame, but he was still so secretive about his love life, and that is exactly where the Jonathan Bailey partner story begins!
Bridgerton was Bailey's official breakthrough, and although the first season wasn't really about Bailey, it was the second season that made things even more exciting for the actor. Although Bailey plays an eligible Bridgerton bachelor in the show, hardly anything is actually known about the actor's love life.
Yes, he did mention how he was afraid of talking freely about his sexuality in the past. But we are guessing he doesn't care anymore. So here we are, ready to delve deep into the actor's love life and find out all that we can!
The Jonathan Bailey Partner Story: Inside The Secretive Love Life Of The 'Bridgerton' Star!
Before we can shed light on the whole Jonathan Bailey partner story, let's talk about Anthony Bridgerton, A.K.A Jonathan Bailey. So, without wasting any time, scroll down and read about the handsome actor, his sexuality, and finally, his partner! 
Who Is Jonathan Bailey?
So, who is Jonathan Bailey? The British actor's middle name is Stuart, and his birthday is on the 25th of April. Born in 1988, Bailey started his career in show business when he was only a child. He went to see 'Oliver' and that was it – by the time he was seven years old, he had already performed in the famous Royal Shakespeare Company productions. 
Jonathan is a performer – both on the stage and on the big screen. When he was only eight years old, he was cast as Gavroche in the fancy West End staging of 'Les Misérables.' Bailey also played the role of Prince Arthur during his teenage years in 'King John.'
Once he finished school, Bailey worked on several projects like 'The Mother Ship,' "Beautiful Thing,' and 'Pretend You Have Big Buildings.' After attending the Magdalen College School located in Oxford, Bailey worked on solidifying his acting skills and career with several roles in different projects. 
Bailey's Dating History:
Unfortunately, Bailey has not really shared information about his dating history. While talking about his personal life with GQ, the actor explained why he hid his sexuality originally while breaking into Hollywood.
He recalled how he overheard a fellow actor being told, "[There are] two things we don't want to know: if you're an alcoholic or if you're gay."
Bailey later said, "All it takes is for one of those people in that position of power to say that, and it ripples through. So, yeah, of course, I thought that. Of course, I thought that in order to be happy, I needed to be straight. I reached a point where I thought, 'F**k this.' I'd much prefer to hold my boyfriend's hand in public or be able to put my own face picture on Tinder and not be so concerned about that than getting a part."
The Jonathan Bailey Partner Story: Bailey And Sexuality Part I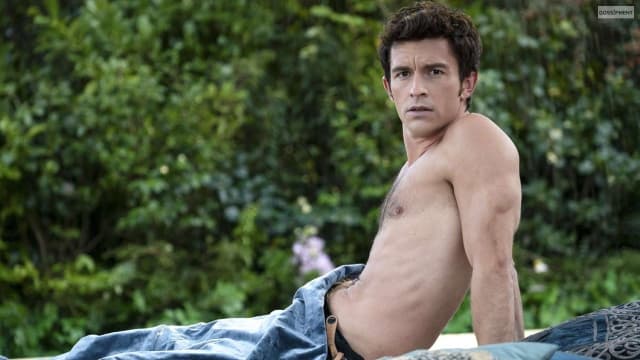 If you are searching for 'Jonathan Bailey girlfriend' on Google, we are sorry to disappoint you ladies, but the question you should actually ask in this case is, 'Is Jonathan Bailey gay?' while digging into the Jonathan Bailey partner story. 
Jonathan was in his 20s when he came out to his family, friends, and close ones, but he did keep acting in straight roles. He is one of the few gay actors in Britain who can play different straight roles with ease, though he keeps cringing when asked about how he is seen as a successful sex symbol after all those steamy scenes in the show.
Bailey even recalled how it took him some time to come to terms with his entire sexuality. He didn't really hide his sexuality, but he didn't really mention it during any conservative discussions about gay men and their sexuality in show business. Apparently, Bailey was told,
"Oh, no, you can't come. You shouldn't do that."
While speaking candidly on the topic, Bailey further shared how gay actors are often commodified even though all discussions on and around the topic are simply 'brilliant.' He also said,
"In my generation, the out gay actors are now being poached."
The Jonathan Bailey Partner Story: Bailey And Sexuality Part II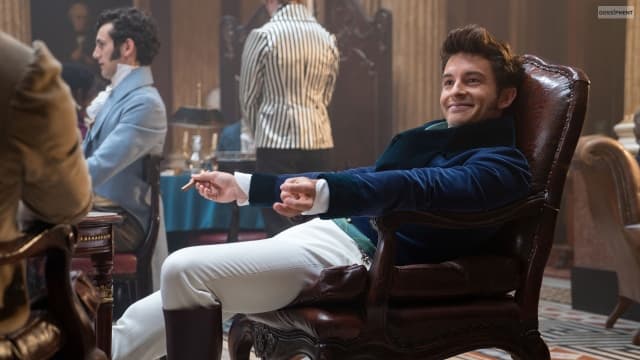 When Bailey was filming a series pilot, one of his actor friends said a few things to him that stuck with the Bridgerton actor. Those words are,
"There are two things we don't want to know: if you're an alcoholic or if you are gay."
It was just that one person sitting in a position surrounded by power who said a few words that ended up impacting Bailey more than he had initially foreseen. Bailey did admit that he did think that being straight would make him happy – and that is precisely why, even after his acting career actually took off, he still kept his sexuality under wraps, waiting for the right time(?)
When Bailey wanted to hold his partner's hand publicly, he stopped himself during this time – he couldn't even have his actual photo up on Tinder for fear of being outed. Later, Bailey revealed his uncertainties related to where he actually fits in society. He also called out the industry's double standards of having straight actors playing gay roles but rarely doing the opposite.
Bailey did mention that it was absolutely 'fantastic' that it finally gay stories were being shared, but it would be actually 'brilliant' to just see actors who are gay cast in those roles – it's about their experiences, too!
This is precisely why you will never find any information on the whole 'Bailey may girlfriend' story – there's no girlfriend!
Who Is Jonathan Bailey's Alleged Boyfriend?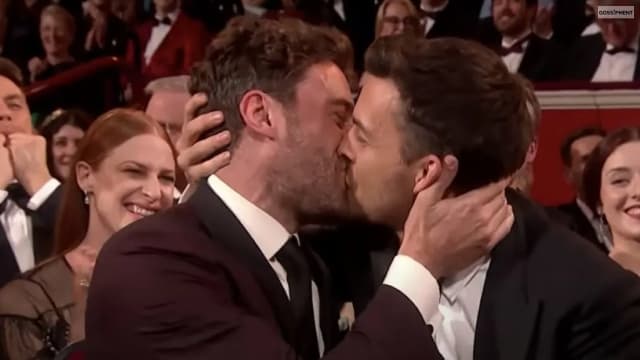 Now, let's talk about the 'James Ellis Jonathan Bailey' story! So, who is the alleged boyfriend of the handsome actor? Scroll down to read about the Jonathan Bailey partner story.
Initially, Bailey did not confirm his relationship status publicly. But then he did end up kissing James Ellis during an Award show. Bailey won the popular Olivier Award for his performance in a musical. He got the Best Actor In A Supporting Role, and when he got up from his seat to receive the award, he did appear pleased.
Right before Bailey could go up on the stage and get his award, he kissed his partner. Both Ellis and the audience started applauding as Bailey finally went up on the stage. After thanking his colleagues and producer, he simply said,
"We have been able to, as a company, show a lovely and celebratory snapshot of gay love."
This happened in 2019 when Jonathan Bailey attended this particular award show with the handsome James Ellis. The duo had already sparked some serious dating rumors when they were spotted together in Notting Hill, having dinner. Although neither of them confirmed anything, James wasn't Bailey's only link-up at the time.
When Bailey was spotted multiple times with fellow actress Pippa Bennett-Warner, everyone thought they were dating. But again, there wasn't any confirmation from the actors.
While interviewing with GQ, he did mention a 'boyfriend'. This mention of a love interest led fans to wonder about Bailey's mysterious relationship status.
Will Jonathan Bailey Appear In Bridgerton Season 3?
OBVIOUSLY! Lord Anthony Bridgerton, a.k.a. Jonathan Bailey, will appear in Bridgerton Season 3. The third season will focus entirely on Colin and Penelope. Bailey is likely going to have a relatively smaller storyline, much like his role in the first season or even like Daphne in season 2. 
Bailey will probably be enjoying marital bliss like Daphne did in Season 2. We can't wait to see this gorgeous man again!
And That's A Wrap On The Jonathan Bailey Partner Story!
There's no point searching for 'Jonathan Bailey husband' on Google – for the love of God, he 'might' be seeing someone, and that does not mean he is married! So let the man breathe and do things at his own pace. Meanwhile, what's the harm in enjoying his reel-life romance with Simone Ashley, his co-star from Bridgerton?
So, that's a wrap on the Jonathan Bailey story. Now, tell us what your thoughts are on Jonathan Bailey and his love life. Feel free to share your thoughts and opinions in the comments below.
Read Also:
◼ Best Sexy Korean Movies Of All Time To Turn On The Heat
◼ Who Is Julia Fox's Ex, Peter Artemiev? All That You Need To Know!
◼ Who is Denise Lombardo?: Jordan Belfort Ex-Wife Biography, Age and Net worth