Selena Gomez!
This multi-talented girl has ruled our minds from her childhood. Although this beautiful young lady is mostly popular among the boys, we girls are also a little jealous of her overloaded cuteness.
Selena is popular as a singer, songwriter, actress, and producer, but her beauty and stunning look are not any less than a model. Even she has the confidence and power to overshadow a lot of famous models.
Here we are not going to talk about the talents Selena has, as we all are pretty aware of that. And there are not many adjectives to define her success at this young age.
We are going to talk about Selena Gomez bikini photos.
Selena Gomez Zebra Bikini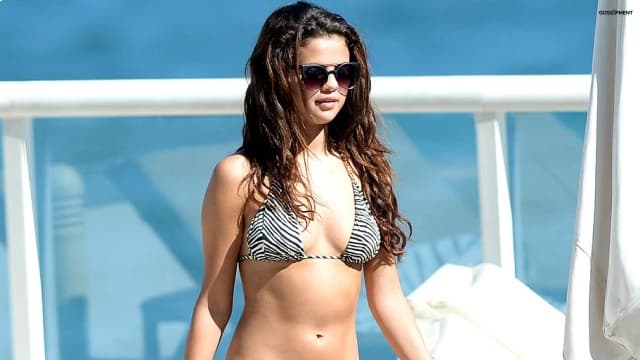 Are you ready for a safari?
Well, if you are not, you might be after seeing the pictures of Selena Gomez zebra bikini. The Wizards of Waverly Place star was looking gorgeous in that zebra print cheeky bikini. We are absolutely loving the bold and confident look she was carrying.
The golden detailing was adding sophisticated sparkle to the look, which is just perfect for a beach vibe. She didn't bother to go with any type of minimal jewelry or accessories. There was no need either.
Read : Top 10 Best Korean Drama Of All Time- 2021 Updates
Selena Gomez White Bikini
White is the color for everyone.
But, we can not remember the last time, when a celebrity slayed a white-bikini-look so perfectly like Selena. It might be because she was having the time of her lifetime at the bachelorette party of her friend Courtney Barry.
We do not need to mention how stunning she was looking in that L*SPACE bikini white two-piece bikini as you can see in the photo. She has shared a couple of photos on her Instagram handle and fans went crazy.
Selena Gomez Refreshing Mint Bikini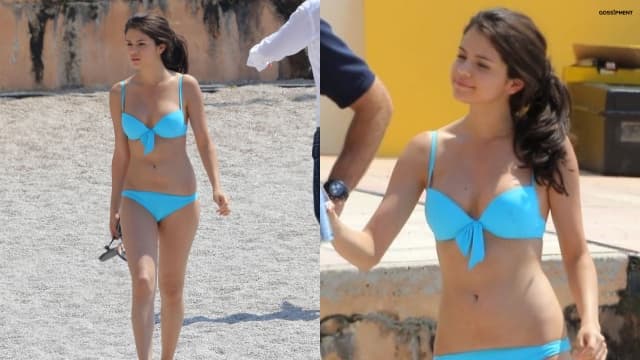 Here is a refreshing photo of our favorite Selena. As usual, she was looking super cute in the refreshing mint-colored halter bikini. It seems like a two-piece bikini is Selena's personal favorite. Although her bikini looks are sexier than you can imagine, this is a cute one.
We never can have enough cute pics of our cutie-pie singer. But I must say she is looking absolutely sensual. I think her level of comfort is making her look more beautiful here.
The sweater Never Looks Soooooo Good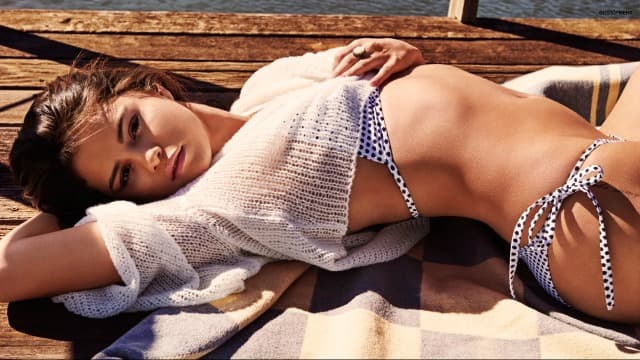 Now I am going to talk about a hot photoshoot of Selena Gomez. Here she was wearing a black and white bobby print two-piece cheeky bikini. The entire look is complemented with a white casual crop sweater.
The first adjective that comes to mind after seeing this photo is hot. Beautiful Selena is looking super hot in that photo. Her perfect curves are enough to make us girls more conscious about our physique.
Read about : Debbie Shreve Bio, Age, Birthday, Husband, Net Worth 2022, Movies, Height.
Perfect Contract To Tan, Bright Blue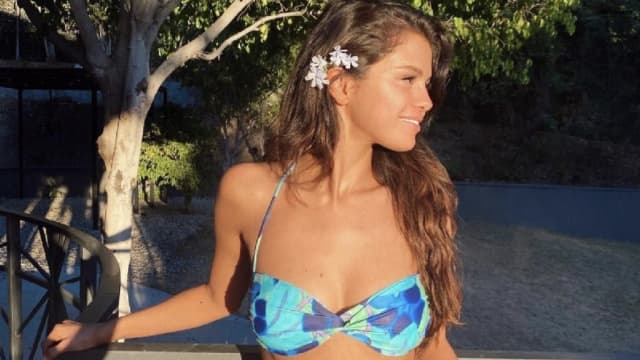 Beach times for getting some tan and flaunting it. If you are planning a beach vacation and looking for some hot bikinis, you can get inspiration from this Selena Gomez bikini look. This bright blue color two-piece bikini will complement the tanned look.
Selena is looking too stunning to handle. The color is complimenting her so well as if this bright blue color is made for her. I am still confused about whether it is the summer color that is making Selena look extra-ordinary, or it is Selena herself, who is making the color look brighter.
Selena Gomez Floral Bikini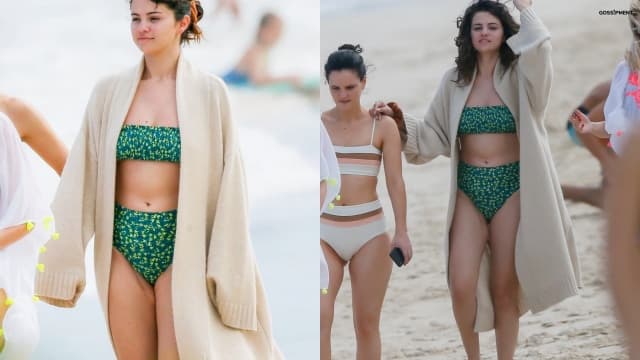 Beach time is incomplete without some floral prints. Although solid-colored bikinis seem Selena's personal favorite, still she is also slaying this floral print. The purple-colored bikini is not so good-looking, but Selena is wearing this.
She has worn it while having some fun time with her friends on the beach. This might be just a casual beach outing for her, but still, we can not keep calm, as we are loving her in this wet bikini look.
Not A Bikini But Never Mind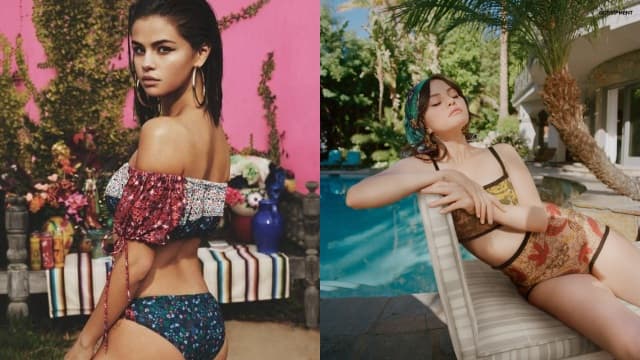 Well, technically it is not a typical Selena Gomez bikini photoshoot, but I can not resist myself from adding it to the list. Here she is wearing lingerie with a combination of red animal print bottom and a dark-colored top.
This one is from an old shoot. The photo has made all of us think that the Disney star is growing or already has grown into an adult sexy lady. The expression, her body language, everything is making this picture sensational, hot, sexy, and a lot more than all these.
Who Is Mikey Lorna Tyson? Read All About Mike Tyson's Daughter
A Sexy Fashionable Cowgirl
I know you already have fallen for Miss Gomez, here I am giving you another reason to fall for her. This cowboy look is worth dying for. Selena was wearing a white and black checked bikini. The high-waist bottom wear was offering a retro look.
The upper wear has beautiful flower decorations, which is complementing the entire closet look. Her curly hair, cowboy hat and obviously retro make-up is presenting a newer Selena to us.
A Round Neck Style Swimsuit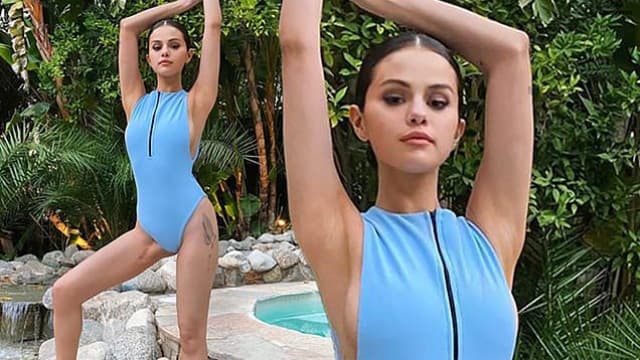 This minimalist swimsuit is technically not a bikini, still, I can not miss this one when I am talking about Selena Gomez bikini. It is the traditional one-piece swimsuit. I do not think, I have to say, how attractive the color is.
The high-cut sleeve line and round neck are perfectly defining the stunning body Selena has. Also, the front-open zip is playing the role of an embellishment to the suit. Minimal nude makeup and a neat bun hairstyle is making her look absolutely stunning and adorable at the same time.
Selena Gomez Red Hot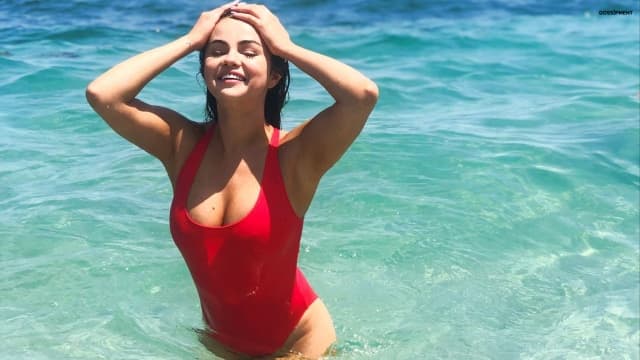 The color red implies hotness. Selena is hot, especially since all the previous Selena Gomez bikini photos are so hot that you might need to regulate the air cooler temperature. Here, Selena is wearing a single-piece hot red swimsuit.
The photo is capturing Selena coming out of the water setting her hair. Her sensational expression made the photo talk. You
A Bonus: A Damn Sexy Candy Posing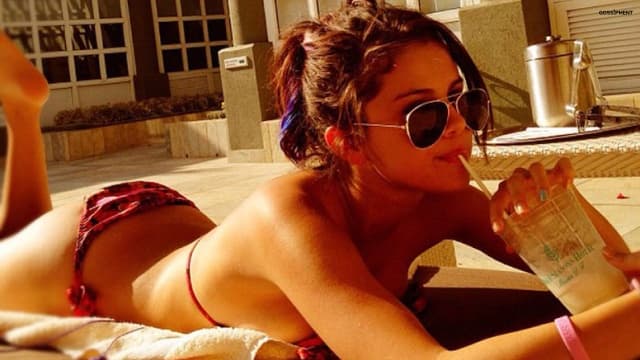 Selena Gomez is a sweet and sour candy. The combination of sweet red and white color is giving me a vibe of a swirling pop sucker. This two-piece Selena Gomez bikini, the floral embodiment is adding additional charm to the entire look.
Also, the bottom is not the usual one. The horse-tail hairstyle and lathe hoop earring is boosting the entire look. We bet you can not scroll those pictures up without staring at them for at least a few minutes.
Selena Gomez Unedited Bikini
Recently she made a collaboration with Lamariette and started her journey in this industry with her friend. When she posted her un-photoshopped Selena Gomez bikini Instagram pictures as a gesture to promote "love your body" and be confident, the whole internet was in a storm.
All the photos are incredibly sexy and hot. Here Selena is wearing a damn sexy Selena Gomez bikini. This purple-colored strappy bikini is perfectly showing the curves and beauty of Selena's body. The neon color nail polish complements the entire look.
Read More Related Topics…